Premier League club confirms new ground is weeks behind schedule and doesn't know when construction work will be finished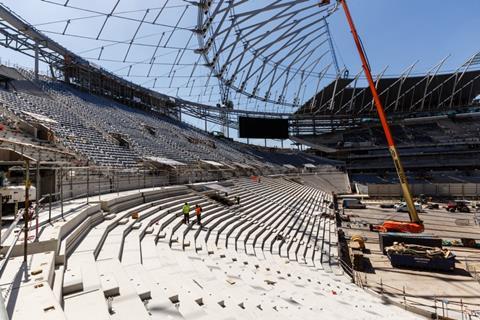 Mace is facing a race against time to make sure its scheme to build a new stadium for Tottenham Hotspur doesn't fall further behind schedule after the club last night confirmed the scheme had bust its deadline.
The job, which has an official project cost of £400m, was supposed to be ready at the end of this month in time to host its inaugural Premier League game against Liverpool on 15 September.
But club chairman Daniel Levy said the job is now weeks behind schedule and admitted its game against reigning Premier League champions Manchester City at the end of October is a major doubt - there is an NFL fixture, between the Philadelpia Eagle and Jacksonville Jaguars, to be played at Wembley stadium on the same weekend as well.
Tottenham's games against Liverpool, Cardiff City, and any scheduled Champions League and League Cup games have been shifted to the national stadium.
An NFL game between the Seattle Seahawks and the Oakland Raiders has also had to be switched to Wembley, where Spurs played their home games last season and which the club will now be forced to use again as it waits on Mace to finish off the job.
The club blamed "safety critical issues" for the delay and in a statement said: "Recent testing and commmissioning has now shown issues with the critical safety systems.
"We are reviewing the situation and planned timetable to rectify and re-test, after which we shall be in a better position to outline a revised timetable.
"The delays created by these difficulties mean that we can no longer hold the necessary test events on 27 August and 1 September. These will need to be rescheduled to take place ahead of any first official match at the new stadium in order to achieve the safety licence."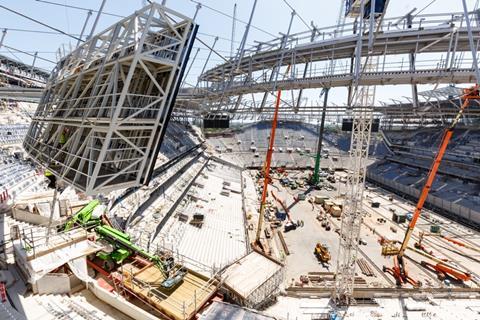 A spokesperson for Mace said the delays were "extremely disappointing," but added "I am sure people will appreciate safety is our highest priority."

They went on: "Although these delays are obviously frustrating, once complete the new stadium is going to leave a fantastic, lasting legacy and will be a project everyone involved will be proud to be associated with."
In order for the 62,000 seat stadium to open, local council Haringey has to issue it with a safety certificate once the club has held test events at the ground.
Mace began work on the job at the end of 2015, cementing its reputation as a major main contractor. But the deadline has always been tight with the club telling Mace it only wanted to be at Wembley for just a single season.
Because the new ground, which will be the largest club stadium in the capital, has been built on part of the site of Spurs' old White Hart Lane ground the job has been built in two phases.
The second phase kicked off with work to tear down Tottenham's historic home - which first opened its doors 119 years ago - the day after the club's last home game against Manchester United in May last year.
The job has long been rumoured to have bust its £400m budget although the club, which became the first in Premier League history not sign a player in the recent summer transfer window, has never confirmed the cost has ballooned.
Levy said: "We know this will be disappointing for all our season tickets holders, premium members and our fans worldwide.
"At the start of the project we asked for your support during what we knew would be a complex and challenging build and now we ask for your continued patience and forbearance."
Test events will be held at the ground once main construction work is completed.
Back in 2007, the delayed Wembley stadium held two test events in March that year before its first game - that year's FA Cup final between Manchester United and Chelsea in May.