Chief executive adds firm on course to hit £3bn revenue target by 2026
Mace has said it expects revenue next year to climb above the £2bn mark for the first time since the record number it notched up in 2018.
Chief executive Mark Reynolds said he is confident the firm will hit its £3bn revenue target by 2026 which also includes a 20% growth in margins every year.
The firm saw revenue last year slip £100m to £1.7bn with the firm's contracting arm remaining the biggest part of the business with an income of £1.2bn.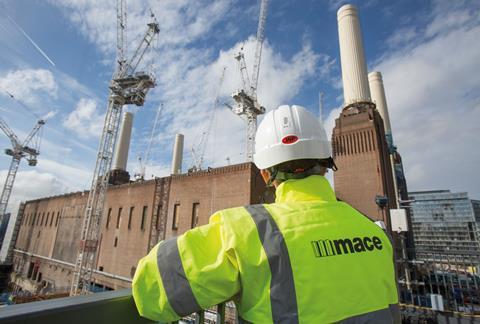 At the end of last week, the board met to sign off on what it expects to make this year and next with revenue in 2022 set to be around £2.2bn. Construction is expected to post turnover of £1.6bn with its consulting business set for income of £400m. The remainder will be made up of around £130m of FM work and a further £80m of HS2 work, which it doesn't include in construction's figures.
Its biggest ever income was the £2.35bn it posted in 2018 and Reynolds said revenue would be close to the £2bn mark for this year when it next files its accounts at Companies House.
Pre-tax profit this year will be up 20% on the £19.7m it made in 2020 with Reynolds saying 2022's number will be "north of £30m".
He said that rising costs had pushed around £100m of revenue it had expected this year into next and added: "Construction inflation has affected clients pushing the button and confirming projects. If a job is above the cost plan, people have to go back and get approval."
Reynolds said he expected rising materials prices to continue going up in the first quarter of next year although he added the steepling hikes seen earlier this year were calming down.
But he said problems with labour weren't affecting the firm that much. Mace expects to take on another 500 staff next year bringing staff numbers to around 7,200.
And he added: "We have thousands applying to join Mace every month. Our challenge is matching them to the right jobs."
Reynolds also said the introduction of new, post-Brexit certification rules needed to be extended again after they were pushed back a year in the summer.
The government bowed to industry pressure in August and agreed to hold back until the start of 2023 on introducing the UK Conformity Assessed mark – the replacement for the current CE markings which have been used to certify products across an array of sectors in Europe since 1985.
But Reynolds said it needed to go back a second time. "It will have to go out another 12 months," he added. "There is just not enough testing capacity in the UK. We need to have a further extension."