Developer Land Securties reports £533m profit for full year and confirms Mace's appointment as £768m first phase begins next month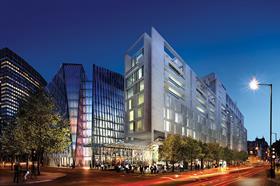 Land Securities has committed to developing its Victoria Circle scheme in west London and will begin the £768m first phase next month.
The developer confirmed the appointment of Mace on the job, as revealed by Building in March.
Land Securities is in joint venture with Canada Pension Plan Investment Board on the project. Mace will start construction next month, with the phase due to complete in the second quarter 2016.
The first phase totals 727,000 sq ft, including 480,000 sq ftof offices, 80,000 sq ft of retail/restaurant space and 170 luxury apartments.
The scheme is the latest and largest scheme in Land Securities' 15-year transformation of Victoria. By 2018 the developer will have delivered almost 3 million ft2 of redeveloped or new space in the area over the period.
Victoria Circle – designed by PLP Architecture, Benson & Forsyth and Lynch Architects - consists of six buildings with a mix of retail, residential, office and public space.
The site incorporates the entire block between Victoria Street, Bressenden Place and Buckingham Palace Road.
The Victoria Palace Theatre, situated at the South-east corner of the site, will be retained. The theatre was built in 1911 and has been showing Billy Elliot the Musical since 2005.
Land Securities also announced its full-year financial results to 31 March 2013 and a 3.4% rise in pre-tax profit to £533m.
The developer – which has been more bullish than most of its competitors – said its "development window remains open".
Land Securities chief executive Rob Noel said: "Our strategy to focus on developing early in the cycle led to success at Trinity Leeds and Buchanan Street, Glasgow which both opened their doors close to fully let in March.
"In London, 20 Fenchurch Street is now 56% pre‑let or in solicitors' hands, a year ahead of completion, demonstrating clear demand for the right space in the right location.
"Our development window remains open. A strong balance sheet combined with discipline in recycling capital allow us to take advantage of that window, as shown by our announcement today to commit, with our partner CPPIB, to the £768m first phase of Victoria Circle, a mixed-use development in London's West End.
"There has been no let up in the pace of our activity in the new financial year and I am confident of delivering success."