Rail link's chairman up before MPs next week to discuss contract fiasco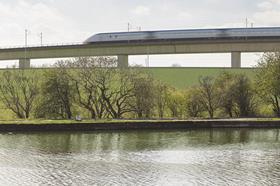 Mace will decide by the end of the month whether it will go to the High Court to begin legal action against HS2 over its handling of a contract award on the second phase of the scheme.
HS2 was expected to have issued a so-called 'standstill' letter to remaining bidders Bechtel and Mace for the deal yesterday afternoon.
HS2 Ltd, which is responsible for building the network, has been in discussions with second-placed Bechtel since the end of last month when original preferred bidder CH2M dramatically pulled out of the deal for the £170m phase two delivery partner contract.
The standstill period lapses in two weeks' time with sources saying Mace will then decide whether to start legal action.
Mace wants the contest re-run but this has already been discounted by HS2.
Building understands HS2 chairman David Higgins and Mace chief executive Mark Reynolds met up last week to discuss the issue after a meeting between the two sides at the end of last month was described by Mace as "less than productive".
Higgins, along with transport secretary Chris Grayling, will answer questions on CH2M's withdrawal at a select committee hearing next Wednesday.
Transport committee chair Louise Ellman said: "As with any investment of this size, it is essential that it [HS2] is managed effectively.
"The withdrawal of CH2M from a major HS2 contract raises several questions which must be answered."
A HS2 spokesperson said Higgins "would be happy to answer questions in front of any relevant parliamentary committee".
Mace, which has hired £650 an hour QC Michael Bowsher, says that HS2 has still not answered a list of questions – which number at least 10 – it has sent HS2 and a spokesperson for the contractor said: "It is quite remarkable that HS2 thinks they can simply brush this debacle under the carpet, when there is such a long list of questions to be answered.
"When we finally receive the answers to our very straightforward questions, we will be ready to decide on our next steps with our legal team."
Mace queried the award almost immediately after it was made in February, alleging there were conflicts of interest after HS2 Ltd appointed CH2M European managing director Mark Thurston as its new chief executive last month. He replaced interim Roy Hill, who was himself seconded to the client from CH2M, while another senior figure at HS2, its former interim chief of staff Christopher Reynolds who spent five years at HS2, joined CH2M last year in a technical support role.