Laing O'Rourke, Canary Wharf Group and WSP among signatories to ConcreteZero initiative
Nearly 20 firms including Byrne Bros, Canary Wharf Group, Laing O'Rourke and Mace have signed up to a new initiative to use 100% net zero concrete by 2050.
Called ConcreteZero, 17 businesses have committed to using 30% low emission concrete by 2025 and 50% by 2030.
It has been launched by Climate Group, in partnership with the World Green Building Council and the World Business Council for Sustainable Development.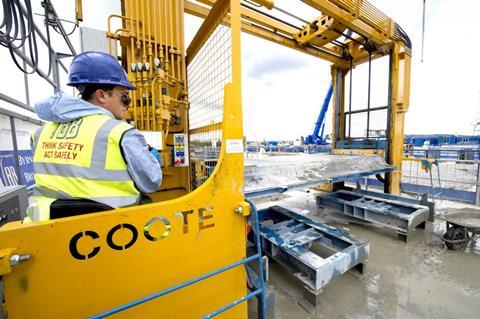 Concrete production contributes to 8% of global annual carbon emissions with signatories to the pledge committing to measuring and reporting on the carbon emissions associated with the concrete they use.
Climate Group said the data will enable the industry to set a global standard of what low emission and net zero concrete is.
Jen Carson, head of industry at Climate Group, said: "ConcreteZero is signalling to the industry that the biggest buyers want the industry to innovate and act now on emissions. Concrete and steel emit as much as all road transport globally, and demand is going up. We won't address the climate crisis without big bold measures on industry."
WSP managing director of property and buildings, Kamran Moazami, said: "We must all think to the future in the way we design, build and operate our built assets. We must move quicker to address the built environment's contribution to GHG emissions as climate change is already impacting the way we live and will only accelerate."
And another signatory, Shobi Khan, chief executive of Canary Wharf Group, said: "Canary Wharf Group is determined to help drive progress to decarbonise concrete as fast as we can. We know that this can only be achieved through deliberate and intense collaboration."
A non-profit organisation, Climate Group was founded in 2004 and has offices in London, New Delhi and New York.
The 17 firms who have signed up
· Buro Happold
· Byrne Bros
· Canary Wharf Group
· The Carey Group
· Clancy Group
· Grimshaw Architects
· Grosvenor
· Joseph Homes
· Laing O'Rourke
· Mace
· Morrisroe
· Multiplex
· Ramboll
· Skanska UK
· Thornton Tomasetti
· Wilmott Dixon
· WSP