Sources claim two years of heavy losses at European arm could put contractor in Chinese sightline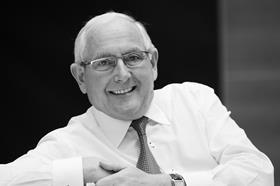 Two years of major losses at Laing O'Rourke's European division have made the heavyweight contractor a takeover target, industry insiders have told Building.
Two days before Christmas the firm's founder and chief executive Ray O'Rourke (pictured) wrote to clients and staff admitting the firm had slumped to an overall £246m loss for the financial year to March 2016. O'Rourke blamed the loss on problem jobs - including huge losses on a Canadian PFI hospital job, as revealed by Building last month.
Laing O'Rourke's European division, which made a £58m pre-tax loss the previous year, incorporates the Canada business, as well as the UK and Middle East. The extent of this division's loss in the most recent financial year will be disclosed when full accounts are made available at Companies House, expected in the coming days.
In his letter, O'Rourke said the firm would return to profit in the current financial year to this March, but commenting on recent losses, said: "We all know that when recession starts, our industry … enters a race to the bottom - regrettably Laing O'Rourke joined in."
Multiple sources told Building they believed that the troubled period of trading had made the firm a takeover target, with a Chinese contractor thought to be the most likely bidder.
One acquisitions specialist said: "[Laing O'Rourke] has been a takeover target, certainly. The Chinese would be a natural fit.
"The UK has long been a potential area of interest to Chinese builders, they want a route into our major infrastructure projects."
Laing O'Rourke is the UK's largest private builder with revenue of around £3bn and has enabling works roles on huge projects including Hinkley Point C and HS2.
When asked about becoming a takeover target, a Laing O'Rourke spokesperson said: "As a privately owned group, we never comment on market speculation," and added: "As we stated in the group's recently released trading update, the group returned to profit at the half year and is on track to report a profit for the full year […] as it completes legacy projects secured during the recession and commences delivery of its highest-ever quality £10bn order book."
The contractor announced plans to sell its £1.5bn-turnover Australian business last January but has not issued any update since last April, fuelling further speculation that plans may have moved on to selling the whole company.
Commenting on the Australia division sale process, the spokesperson said: "There is nothing further to report at this stage. As ever with such processes, it's essential that the time is taken to ensure the proper steps are taken by all parties involved."
This week it emerged Ray O'Rourke, who took over as chief executive after Anna Stewart stepped down 13 months ago, has moved to Jersey - known as a tax haven - and is managing the business at least in part from the Channel Island.
The Laing O'Rourke spokesperson said: "In his leadership role as executive chairman and CEO, Ray O'Rourke travels extensively across all our international operations and is managing the business in a hands-on way, supported by an extremely capable senior leadership team. The chair's choice of residence is very much a private matter for him and his family, and therefore we will not be commenting further."
In his letter last month, O'Rourke also set out plans for the firm to become a £4bn-turnover business within four years and restated the firm's commitment to investing in off-site manufacturing.
He added: "I want to assure all our stakeholders that our company is adequately financed, has returned to profit in FY17 and is … well-positioned to move forward from these less than satisfactory results."
Despite its European division loss in the 2014-15 financial year, Laing O'Rourke posted an overall £12.4m pre-tax profit for that year thanks to "strong" trading in Australia.