Trio of schemes become first private sector jobs to be given the go-ahead in the regeneration project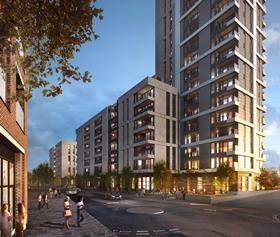 Architect Make has been given the all-clear for a new residential development as part of the Old Oak regeneration scheme.
Mitre Yard is among the first private sector schemes to come forward as part of the Old Oak and Royal Park development's regeneration of the area.
The project includes three buildings, a courtyard block overlooking the Grand Union Canal, a street block along Scrubs Lane and a tower.
Across the trio of buildings there are are two lobbies and 200 build-to-rent apartments, including affordable housing.
There will also be a space at ground level that can be used as shops, offices, cafés or restaurants.
Make, which was responsible for the Greenwich Square masterplan and the Central House residential development near London Bridge station, designed the Mitre Yard project for developer City and Docklands Property Group, while law firm Asserson provided guidance on planning.
It is the second private sector scheme to be brought forward as part of the Old Oak programme following an Allies and Morrison scheme that was given the go-ahead in April last year.
The North Kensington Gate project, also on Scrubs Lane, will deliver more than 200 homes across two buildings – North Kensington Gate South and North.
North Kensington Gate South will provide 164 units and will include commercial and retails space at ground floor level. It will comprise three blocks rising between six and 22 storeys. The 11-storey North building will feature 47 new homes.
In total, the Old Oak and Park Royal Development Corporation's regeneration programme is expected to deliver 25,500 new homes and 65,000 jobs.
The entire scheme has a gross development value of £26bn.