Ballymore sells £428m of London schemes to former S P Setia mainstays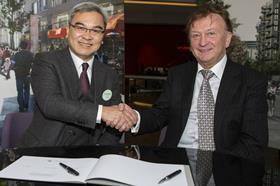 Developer Ballymore Group has entered into a joint venture with Eco World Investment Co that will transfer three London sites to the Malaysian property investment firm.
The deal will see Ballymore sell Arrowhead Quay in Canary Wharf, phase two of its London City Island scheme, and the second phase of Embassy Gardens, in Nine Ems, to Eco World for £428m.
Ballymore said it would continue to manage the developments and keep a 25% stake in a newly-established holding company for the joint venture.
It added that the three projects had a gross development value in the region of £2.2bn and would deliver around 2,800 new homes and 250,000 sq feet of commercial, leisure and office space.
Eco World Investment is 70% owned by Tan Sri Liew Kee Sin, former president and chief executive officer of Battersea Power Station developer SP Setia Bhd.
Its remaining share is owned by Dato' Voon Tin Yow who was chief operating officer at S P Setia during Liew's tenure and served as acting president and chief executive offficer from May last year until the beginning of this month.
Ballymore chairman and group chief executive officer Sean Mulryan said the deal not only generated substantial proceeds, but provided a "successful template" for developing projects in the future.

"In EW Investment we have a great partner with substantial property experience, backed by individuals who were responsible for leading the visionary plans for the redevelopment of Battersea Power Station," he said.
"Combining our development expertise and track record with EW Investment's own experience and international marketing abilities will create valuable synergies for our joint venture."
Liew, who is described as a non-executive director of Eco World Development Group, said the firm was delighted to have been invited to jointly develop the sites with Ballymore.
"Their deep knowledge and experience in delivering projects from inception through to completion and post completion estate management in London make them an ideal partner to complement our strengths in delivering such developments globally," he said.