Deloitte says residential and office work fuelling starts in UK's major cities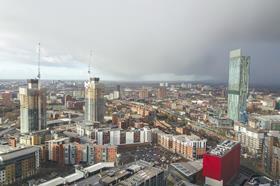 Workloads in Manchester and Leeds have hit record levels with the two cities leading a regional building boom, the latest Deloitte crane survey has said.
While confidence in London falters, 200 miles up the M6 Manchester is undergoing a residential boom with close to 15,000 units being built – double that of just two years ago.
And the city has 2 million sq ft of office space under construction across 13 projects with a quarter of the schemes going ahead as pre-lets.
Simon Bedford, partner and regional head at Deloitte Real Estate, said: "If Manchester had featured in the recently published North American Crane Index, it would have ranked number two – behind Toronto but in front of Seattle, Los Angeles and Chicago.
"That might have seemed like a remarkable stat a few years ago given Manchester only had one crane in the sky in 2011 but today the figure is a massive 78 sites under construction."
The tallest tower in the city remains the 47-storey Beetham Tower (pictured), designed by Simpson Haugh and completed by Carillion in 2006, but developer Renaker Build is on site with another Simposn Haugh job, a multi-tower residential scheme that will feature a 200m-tall building which will eclipse the 169m Beetham Tower.
Firms have been beefing up their teams in the city to take advantage of increasing workloads in the city and wider region including Rider Levett Bucknall (RLB) which last autumn poached the head of Mace's consultancy business for the north and Scotland to help spearhead growth in the area.
RLB's boss in the city, Russell Bolton, said it was looking to grow its staff in Manchester by a quarter to 125 over the next couple of years and added: "Manchester is a very busy region."
And London-based project manager and cost consultant TowerEight recently opened its first regional office in the city.
Across the Pennines, Leeds enjoyed a record level of construction starts since Deloitte began its crane survey for the city back in 2002.
This saw 21 starts last year including seven office schemes as well as an increase in residential work with the number of units in this sector being built now more than 2,000.
Further south, Birmingham had 23 new starts last year with 2018 seeing the completion of the most residential units in the city centre since Deloitte began the survey for Birmingham 17 years ago. But new office schemes fell from a peak of seven in 2016 to just two.
Bedford admitted the figures had caught him off-guard and added: "To have construction figures this healthy is somewhat of a surprise given a myriad of market uncertainties. Developer confidence is a key indicator for economic health and to have this many significant construction starts over the last 12 months, especially in speculative office schemes, is testament to the resilience of the regions and appetite for growth."
Across the Irish Sea, Belfast has 34 schemes under construction, with 21 schemes having finished in 2018. The year also saw work begin on 400,000 sq ft of office space.