Conservative MP revives bill shelved in March after original backer was appointed to housing department job
Mothballed proposals to cut carbon emissions in construction projects by amending building regulations have been put back on the table.
Conservative MP Jerome Mayhew has reintroduced a private member's bill to parliament which would see mandatory limits placed on embodied carbon at the design stage of projects within the next few years.
The Carbon Emission (Buildings) Bill was originally proposed by Mayhew's fellow Tory MP Duncan Baker in February but withdrawn the following month when Baker was appointed to a new job in the housing department. Parliamentary procedure means that private member's bills cannot be submitted by an MP whose role overlaps with the proposed policy.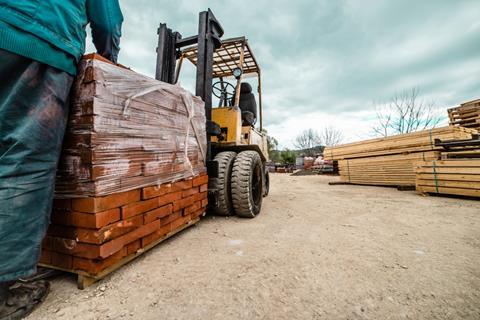 Mayhew's revival of the bill comes a month after the cross-party environmental audit committee published a report calling for the government to make carbon assessments for buildings mandatory.
The report said that assessments of emissions involved in the construction, operation, maintenance and demolition of a building should be written into the regulatory and planning system.
Mayhew's bill is based on a major initiative called "Part Z", named for the proposed new section in the regulations, which has been backed by more than 100 industry heavyweights including architects AHMM, Allies & Morrison, BDP, dRMM, Hawkins\Brown, Haworth Tompkins and Hopkins, as well as with the RIBA.
Embodied carbon, which is produced by the production, transport and use of materials, accounts for around 25% of the UK's emissions, more than aviation and shipping combined.
Part Z proposes that all projects greater than 1,000sq m, or 10 dwellings, must assess and report their whole-life carbon from 2023 for non-residential schemes and from 2025 for residential schemes.
Institute of Structural Engineers head of climate action Will Arnold, one of Part Z's five authors, said that regulation of embodied carbon was "something which is vitally important to do if the government is serious about decarbonising the construction industry as part of its net zero plans".
It is not clear if the government plans to support the proposals. The department for levelling up, housing and communities has said that it welcomes the issue being raised and that it is "exploring the potential" of maximum embodied carbon levels for new buildings in the future.
Part Z has been a source of some controversy in the construction industry because of the potential impact of higher building costs on SMEs.
Rico Wojtulewicz, head of housing and planning at the House Builders Association, a trade body representing SME housebuilders, said in March that smaller firms were not given "enough of a consideration" in the plans.
Mark Shouler, director of Nottinghamshire housebuilder Hofton & Son, said the extra costs of making schemes compliant under the new rules would make it "completely and utterly pointless building houses".
The Part Z authors said in a joint statement that the final values of the requirements for projects had not been finalised and would be revised through public consultation before they came into force.