Retailer tears into secretary of state after ordering public inquiry into proposals to flatten flagship store
Marks & Spencer has accused Michael Gove of "grandstanding" after he ordered a public inquiry into the retailer's plans to demolish and rebuild its flagship Oxford Street store in London.
It said it was "bewildered and disappointed at [his] baseless decision to call in the proposed redevelopment of our Marble Arch site".
The firm's property director Sacha Berendji added: "The secretary of state has blocked the only retail-led regeneration in the whole of Oxford Street in a building which was refused listed status due to its low design quality and, while safe, cannot be modernised through refitting as it's three separate buildings containing asbestos."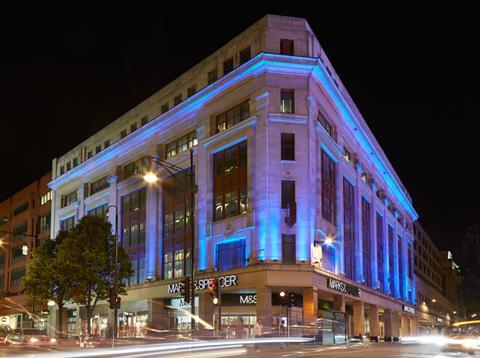 Gove first put the scheme on ice in April but an independent planning inspector will now consider evidence for and against the project before preparing a report and recommendations for the government in the coming months.
Designed by Pilbrow & Partners, the practice set up by former KPF and PLP architect Fred Pilbrow, the scheme, if approved, will see the Art Deco store torn down and replaced with a 10-storey retail and office block.
Referencing some of the rundown shops that have sprung up on one of London's most famous streets, Berendji said: "[Gove] appears to prefer a proliferation of stores hawking counterfeit goods to a gold-standard retail-led regeneration of the nation's favourite high street.
"All the while this political grandstanding goes on, we cannot get on with creating a better place to shop for our customers, a better place to work for our colleagues, and a better public realm for the community in a store that would use less than a quarter of the energy required by the existing buildings."
> Also read Richard Steer on the M&S row and cheap political point-scoring
London mayor Sadiq Khan had given the plans the green light, despite revisiting the issue when it emerged the Greater London Authority had failed to consider a scathing report that had raised concerns about its carbon emissions.
But Berendji said: "An independent assessment of the building's carbon impact across its whole lifecycle concluded that the new build offered significant sustainability advantages over a refurbishment and, on completion, will be amongst the top 10% performing buildings in London.
"For a government purportedly focussed on the levelling up agenda, calling in this significant investment in one of our most iconic shopping locations will have a chilling affect for regeneration programmes across the country."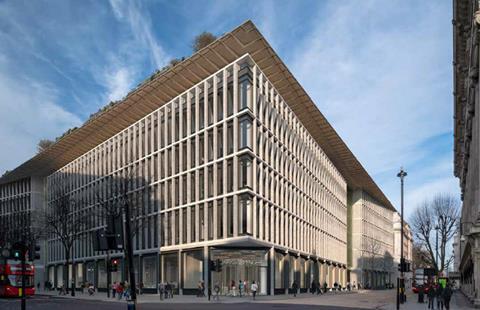 Campaigners to keep the building have questioned M&S's claims and said it should be given a refurbishment – rather than face the wrecking ball.
And Darren Price a director with ADAM Architecture, best known for its classical designs, said: "Sending this scheme to a public inquiry is absolutely the right decision. [Gove] cannot on the one hand be encouraging us all to respond to the climate emergency and then, on the other, be allowing the proposal for demolition of an iconic, landmark building such as this in an especially sensitive environment to sail through the planning process."
News of the public inquiry is set to increase the nerves of those behind another scheme Gove has called a halt to via a so-called Article 31 notice.
Approved by Lambeth council earlier this year, the secretary of state last month said he wanted another look at the plans by Make Architects to turn the former ITV Studios on the South Bank into a mixed-use development.
Local campaigners have said the £400m scheme, which includes a 26-storey tower, is out of keeping with the area and should be torn up and redrawn.
No reason for the Article 31 notice at the site has been given but, as well as being criticised for its appearance, concerns are growing at government level about the wisdom of developers knocking down buildings and replacing them.
The scheme at 72 Upper Ground was set to be built by Lendlease with McGee set to start demolition work on the 1970s block this summer. It is being developed by Mitsubishi Estate and CO-RE.