Firm sees construction and infrastructure divisions hit 2% figure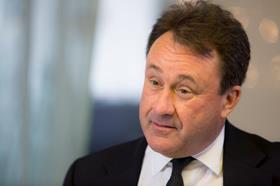 Morgan Sindall turned in a bumper set of results last year as it saw pre-tax profit climb by a quarter and margins at its construction and infrastructure hit the 2% mark.
The firm said revenue in the year to December 2018 was up 6% to £2.97bn with the group seeing its overall operating margin climb from 2.5% to 2.9%. Pre-tax profit was up 24% to £80.6m.
Chief executive John Morgan said the firm's year net cash pile of £207m allowed it to pick and choose which jobs it went for.
He said: "[A] positive operating cash flow is a significant differentiator for us. This provides us with the flexibility to continue being highly selective with bidding in our construction activities while also allowing us to invest in our regeneration activities."
Construction and infrastructure is the largest part of the business with turnover slipping 4% to £1.34bn with the split almost equal between the two sectors.
The firm, which is building a new £45m arts and humanities building for Manchester Metropolitan University, said that just 12% of its £437m construction order book had been won through competitive tendering. It has £800m of work at preferred bidder stage although Morgan added: "We don't count it as an order until it's signed, sealed and settled."
Morgan (pictured) said he expected to see the two businesses, which is seeing the infrastructure arm carry out a £200m deal to upgrade the East Coast Main Line railway at Peterborough, make further inroads into their 2.5% margin targets this year with the pair recording 2.3% margins in the second half of last year compared to 1.7% for the first six months of 2018.
Its fit-out business saw workloads increase 13% to £831m with operating margin staying flat at 5.3%. Operating profit was up 12% to a record £43.8m. Commercial work in London continues to be its biggest market with the firm fitting out the offices of oil giant Shell near Waterloo as well as the neighbouring Shell Centre tower. It is also fitting out the new BBC Wales headquarters in Cardiff designed by Foster + Partners.
But Morgan said he expected profits to come down to its target £30m-£35m range this year. "Last year was a bumper, bumper year."
Morgan Sindall's partnership housing business, which includes its Lovell brand, saw revenue climb 9% to £514m with operating profit down 13% to £12.2m, with the firm blaming increased costs on a scheme, which has now been completed, in London for the fall. Its business in Scotland was also hit by cost escalations.
Morgan added his business would be unaffected by Brexit this year. "We have made adjustments for it," he said."But we're happy going forward. We have lots of pressures on our business, one of which is Brexit."