UK's biggest housebuilder sees strong first half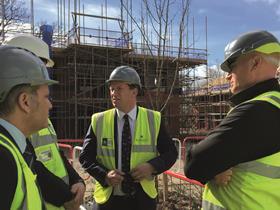 The country's biggest housebuilder hiked margins up again as Barratt said revenue in the half year went through the £2bn barrier.
The firm said operating margins jumped from 17.9% to 19.2% in the six months to December 2018 with income up 7% to £2.1bn.
Chief executive David Thomas (pictured, middle) said: "Operating efficiencies are delivering improved margins."
The firm said that the cost of building homes would go up by 4% during its full financial year but said it was keeping a lid on costs by rolling out new housing ranges as well as using modern methods of construction such as timber frames.
In a strong first half, Barratt said pre-tax profit was up 19% to £408m as the number of homes it completed during the period went up by just under 300 to 7,622.
The company also said its current trading remained strong with total forward sales up 7.3% to just over £3bn at 3 February.