Exclusive: Insulation provider blames faltering government schemes for its need to cut up to 670 jobs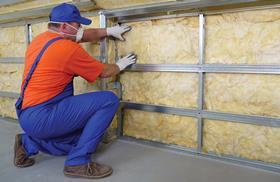 One of the UK's biggest insulation installers Mark Group is to axe up to a quarter of its UK staff as demand for energy efficiency work through the government's flagship energy efficiency scheme slumps.
The firm confirmed to Building that it has begun consultation with staff over plans to cut up to 670 jobs because demand for energy efficiency through the Energy Companies Obligation (ECO) had dropped.
Mark Group has 14 depots across the UK and employs around 2,500 staff in the UK.
The firm said that the redundancies would be spread evenly across its UK business and would not effect its operations in the US or Australia, which employ a further 1,000 staff.
Bill Rumble, chief commercial officer, said it was a "very sad day for our business and all who may be affected by the redundancy programme".
He said: "We had geared our workforce up to meet the expected demand for insulation and other energy efficiency installation work as a result of the ECO scheme, but changes to its structure have had knock on effects that we can no longer avoid.
"Our core UK business remains robust and the need for effective energy efficiency solutions is as significant as ever. However, we recognise that we will need to operate with a smaller workforce until there is a clear and consistent approach to energy efficiency policy."
Official statistics released last month showed the work under the ECO scheme had sunk to its lowest level in over a year.
The number of measures installed under ECO fell for the third month in a row to 30,550 – the lowest level since April 2013.
Under the government's planned changes to ECO, the energy firms are set to rack up extra credit for work done under the scheme before the end of March 2014 – but the number of measures installed each month has fallen ever since that deadline passed.
Those changes were first drawn up last autumn as the government sought to knock £50 off annual household energy bills after the energy firms blamed green levies for price rises.
The government also closed its Green Deal Home Improvement Fund – designed to incentivise people to undertake energy efficiency work in their homes – in July this year, just six weeks after opening, because nearly all the £120m funding pot had been allocated.
Dave Sowden, chief executive of the Sustainable Energy Association, said the job cuts were "a direct result of short term changes in government policy, driven by hasty politics".
He added: "As we head towards the election, it is crucial that energy efficiency is no longer used as a political football, and that party politics are removed from the equation.
"Instead, it's vital to establish a stable, long term policy framework for energy efficiency – one that delivers the cleanest and most cost effective way to meet all of our energy objectives."
A spokesperson for the Department of Energy and Climate Change said: "As a result of insulation measures delivered under ECO and the domestic Green Deal around 35,000 jobs will be supported in the insulation industry in 2015/16."