Structural steel prices rose by more than 10% in August
Prices for construction products rose by another 2.8% in August, according to the latest government figures.
The increase was the second fastest in the previous six months behind July's 4.5% rise.
Structural steel prices jumped by more than 10% in August, while imported sawn or planed wood rose by 8%.
Respectively, the products were 74.8% and 74% more expensive than they were 12 months previously.
Imported plywood has seen the greatest increase out of all materials, costing 78.4% more in August than in August 2020 - although prices have eased slightly from an 81.7% year-on-year difference recorded in July.
Overall prices for materials were nearly a quarter more in August than in August 2020, the data from the Department of Business, Energy and Industrial Strategy shows.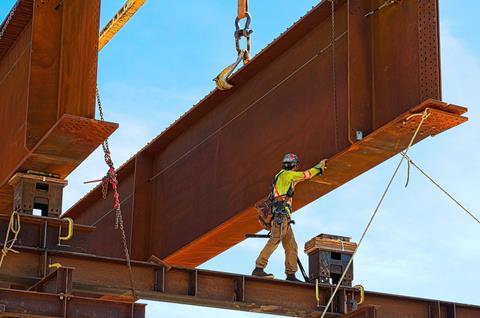 The figures show that cost rises are showing few signs of slowing down despite construction output decreasing by 1.6% in July, according to the latest ONS figures.
The ongoing crisis saw more than 90 construction firms in the North East join the Builders Merchants Federation (BMF) for an emergency summit in the region earlier this week.
During the meeting, which was also attended by the Construction Alliance North East and the Civil Engineering Contractors Association, BMF chief executive John Newcomb warned that prices for some products including cements and bricks had not yet hit their peak.
Newcomb also advised firms to track updates on material availability from the Construction Leadership Council (CLC) to keep on top of the crisis.
The CLC's latest update said that while prices for many products had moderated since July's peak, shortages of labour and transport could drive them up again in the months ahead.
Meanwhile, Arcadis warned earlier this week that British Steel's decision to add a temporary £30 per tonne surcharge on the cost of structural steel because of soaring energy prices was a sign of the "next phase" of the crisis.
The steel maker told customers that it had been left with no option but to raise the cost of all new orders from last Friday as energy prices were "reaching levels we can no longer absorb alone".