Peter Caplehorn adds problems will start to delay completions
Worsening material shortages could hit major projects within the next few months unless supplies improve, the chief executive of the Construction Products Association has warned.
A global shortage of construction materials including timber, steel and plastics this year because of the effects of the pandemic has so far been mostly affecting SMEs.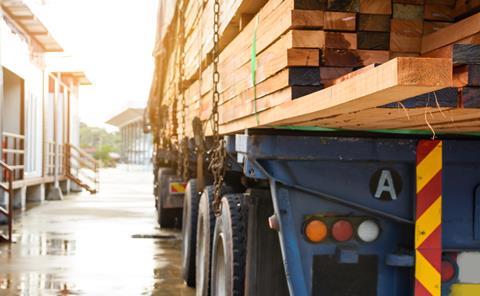 But Peter Caplehorn told Building that the problem had "escalated" and said the delays could soon affect the ability of larger firms to complete projects on time.
He said: "What we're concerned about now is that if things don't improve in a few months, then it might start to have a significant impact on the progress of projects right across the scale."
> Also read: You can't build, build, build if you don't have the materials
Arcadis head of strategic research and insight Simon Rawlinson said the issues were the most severe since the period immediately before the 2007/08 global financial crisis, telling Building: "I think it's that significant."
And Dean Averies, a director with £160m turnover regional contractor Beard, said pressure was growing every day on firms to get hold of materials: "It feels like it's daily notifications [from material suppliers] of some form of change that we're receiving rather than weekly."
The shortages have been caused by an array of problems in recent months, including lower output from sawmills in timber producing countries because of lockdown restrictions and power outages caused by floods in Texas hitting the supply of source materials for plastics.
Logistical problems with container ships because of uneven global trade are also taking their toll on deliveries, while supplies in the UK are also under pressure from surging demand in the construction sectors of developed countries, particularly China and the US.
Caplehorn said: "Most of these things are increasing in severity and also there's very little in the UK that we can do about it."
While he said that some materials for major projects could be sourced from different locations, he warned that the UK sector is "caught in a global commodity chain so those options are quite limited these days".
But while he said that he was yet to hear reports of delays from major contractors, the situation had "escalated to an area of concern" and admitted that "you can't wave a magic wand and resolve these things".
He said the CPA was working on general advice for firms, including planning as far ahead as possible and increasing trading and delivery hours.
The scale of the problems facing firm was underlined by employment contract services group Hudson Contract, which said its clients are now running into serious supply problems on jobs in the West Midlands because materials are being snapped up by HS2 with the Birmingham Commonwealth Games project also sucking up supplies.
Hudson's managing director Ian Anfield said: "Our clients are reporting serious shortages in construction products on the ground. In the West Midlands, some are saying their projects are now on 'tick over' because materials are being creamed off by HS2.
"The government is proceeding with mega-projects and pushing forward shovel-ready schemes to 'build back better', the housing market is overheated due to the stamp duty holiday and demand for lumber is soaring around the world.
"Clients are telling us the materials crisis is outstripping the skills shortage as the main threat to their growth prospects."