Basement works and loss of office space see council's rejection upheld
Plans to convert a Mayfair office building into a 70-room hotel and private members' club have been refused at appeal.
EPR's proposals would have involved the excavation of a three-level basement and the addition of a new roof terrace to seven-storey Leconfield House in Curzon Street, originally built in the 1930s.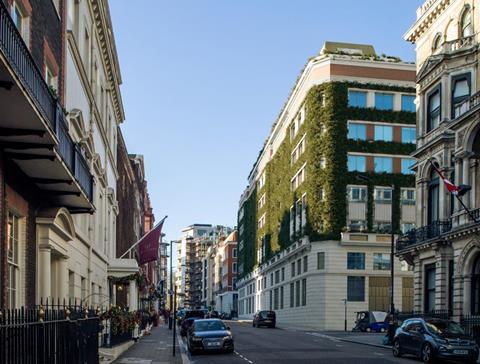 EPR's proposals also included restaurants, a spa and wellness centre, and shops.
But Westminster City Council refused the application in August last year, saying developer Leconfield House Ltd had provided insufficient evidence that there was no market interest in the building's ongoing use as offices.
Officers also said the proposed extent of basement works would have a "serious impact" on neighbours' quality of life, contrary to a specific city council policy.
In a decision following a five-day hearing in June, planning inspector Andrea Mageean sided with the authority.
She acknowledged that while the Ritz Hotel had proposals for a five-storey basement approved under the same policy – with a scheme designed by EPR, there were "circumstantial differences" between that site and the appeal site.
"It would in practical terms be possible to construct the proposed basement, with many of the most harmful impacts mitigated to some degree through the imposition of appropriate planning conditions," she said of the Leconfield House scheme.
"However, the question is whether this development would meet the requirements of Policy 45 which seeks to manage the negative environmental and amenity impacts of basement developments of more than one storey." Mageean concluded it would not.
She said the inquiry had heard "much debate" about the adequacy of the marketing information for Leconfield House, intended to show there was no demand for the building's continued use as office accommodation.
But Mageean said: "Such considerations are of no real consequence as the marketing information does not meet the minimum 12-month requirement."
She added that marketing space in the building at £100 per-square-foot, based on a light-touch refurbishment, "may not be realistic".
"At this point in time it is not clear that that the Leconfield House office space has come to the end of its economic life," she said.
In her report, Mageean acknowledged that the proposal represented a "notable investment in social and cultural infrastructure, with resulting support to the visitor economy".
But she said those benefits would not outweigh the identified harm and its associated development-plan conflict.