But firm warns income and profit will slide this year because of covid
Sir Robert McAlpine parent Newarthill posted its highest turnover for five years with the firm seeing income top the £1bn mark in 2019, its latest accounts have revealed.
The firm saw income rise 23% to £1.054bn in the year to October 2019 – fractionally below the £1.063bn it recorded in 2014.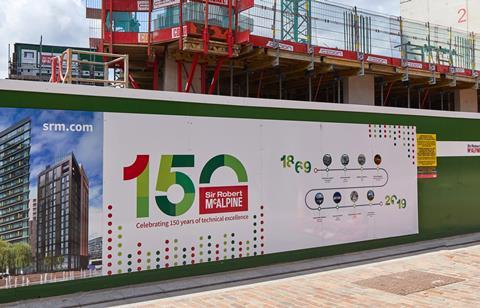 Pre-tax profit bounced back to £20.7m after Newarthill crashed to a £232,000 pre-tax loss in 2018 after it racked up exceptional items of £20.3m following restructuring costs, closing a pension scheme and being hit with an early repayment penalty on a PPP scheme.
In its results filed at Companies House, the firm said this year's pre-tax profit was boosted by £2.4m following the release of a provision relating to its energy from waste business which it has now pulled out of after racking up a £37m loss on three schemes in 2017.
But the firm, which completed work refurbishing Wimbledon's No 1 Court during the period and is currently building a new headquarters for Channel 4 in Leeds, warned that revenue would be lower in its current financial year, which ends on Saturday, because of the covid-19 pandemic.
And it said profits would also head south because of covid with sites earlier this year having to close, productivity falling and the firm forking out for a host of new safety processes.
McAlpine chief executive Paul Hamer, who launched a five year revamp of the business last September, said: "There is still a great deal of geo-political uncertainty and unpredictability with respect to Brexit and a trade deal, covid-19 and the wider economy but we are grateful to have a healthy pipeline of work and strong and enduring client relationships.
"Our focus on vital sectors such as healthcare, education and infrastructure stand us in good stead to weather any ongoing economic storms."
The firm worked on several Nightingale hospitals earlier this year for the NHS while it is also part of the Align joint venture working on the HS2 railway in the Chilterns.
Newarthill said its construction business in the Caribbean saw turnover halve to £28m but the firm said the business remained profitable.
The bulk of Newarthill's turnover comes from its McAlpine contracting arm with revenue here standing at £1.018bn. A further £36.5m comes from its PPP and property businesses.
The firm's cash balance position improved from £162m to £176m at its October 2019 year-end.