Chief executive Paul Hamer tells Building he wants firm to take advantage of government's spending commitment with construction
Sir Robert McAlpine is planning to more than double its civil engineering and infrastructure business in the coming years to take advantage of the government's focus on construction and its levelling-up agenda.
The firm is best known as a building contractor and has been behind some of the most high-profile building schemes in the past 15 years including Arsenal's Emirates stadium, the main stadium for the 2012 Olympic Games and the redevelopment of the Broadgate complex in the City of London.
But it is now looking to target much more civils and infrastructure work in the next five years and its chief executive Paul Hamer told Building: "There's some very big established players [in civils] but the market is big enough to accommodate McAlpine with some of the skills we've got."
Hamer, who was speaking as the firm said the costs of the pandemic sent it tumbling to a £26.8m pre-tax loss on turnover down 19% to £819.5m in the year to October 2020, added the government's focus on construction to lead the country's economic recovery from the covid-19 pandemic had helped the firm make up its mind to look at more jobs away from its traditional building core.
"I'm really pleased the way government has prioritised construction," he said. "In the last recession, construction was the first in and the last out. The focus on construction was long overdue."
The firm's current turnover from civils and infrastructure work is between £120m and £150m, around 18% of its business, but Hamer said he wants this to eventually be between £300m and £400m moving it up to more than 30% of turnover.
"It's pretty clear we would see [government] investment in this [civils and infrastructure] sector and [for us] being mostly building and mostly private clients is not a sustainable place to be for a 152-year-old firm. Infrastructure is public sector, it's long-term and it's more benign in terms of contracting terms."
McAlpine's core clients in the sector are HS2, where it is part of the Align joint venture carrying out a £1.6bn tunnels and crossing contract for the railway in the Chilterns, and Highways England, with its jobs including work at junction 19 of the M6 as well as upgrading parts of the M56.
The firm is looking to target more work from both with Hamer confirming it was likely to bid the scheme to build the HS2 Interchange station at Solihull which is worth around £200m.
Hamer said he expected between a quarter and one third of the firm's profit coming from the civils and infrastructure market with the firm also looking at new clients including Network Rail and more nuclear work.
Hamer spent five years at the British Nuclear Group, where he was responsible for decommissioning work at the estate's fleet of nuclear reactors, and he said the firm's return to nuclear, which it specialised in several decades ago, would focus on the civils side of schemes.
But Hamer said McAlpine was still focussing on its core building and commercial work, adding that it was talking to British Land about its schemes at 1 Broadgate and 2-3 Finsbury Avenue in the City, worth around a combined £600m, while it remains one of two bidders for Derwent's office-led, mixed-use scheme at Baker Street which is worth around £120m.
"We've got a very strong pipeline of commercial opportunities. The UK is still seen as a top investment destination as well," he added.
He said the office market remained strong and added: "When the pandemic hit, there was a thought that people wouldn't return to work. We disagreed with that and it's not what we're seeing.
"Developers want adaptable, flexible floorspace and they want it to be net zero. They want to future-proof buildings and a huge element of the market is refurbishment [to do that]."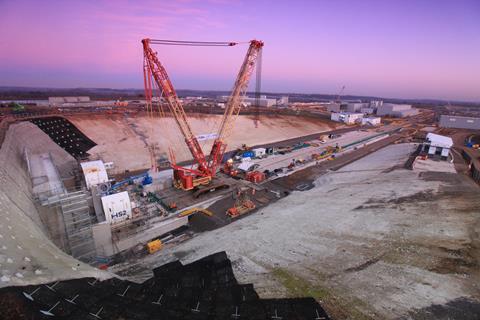 Hamer said the firm, which has 65 sites in the UK, racked up a £23m bill dealing with covid last year, including the money it spent on adapting to new Site Operating Procedures as well as the extra costs of reduced productivity and the knock-on impact of jobs taking longer than planned with it having to pick up the tab for the delays.
The firm claimed £7.3m from the government's Coronavirus Job Retention Scheme initiative, having furloughed over 1,000 people, the equivalent of 52% of its staff numbers, at the height of the first lockdown. Hamer said less than 1% of staff remain on the initiative, mainly those who have been forced to shield for health reasons.
It said its year-end cash position was £96.7m, up from £94m, with the firm adding that it expected to return to profit this year with turnover back up to pre-pandemic levels.