Paul Heather joined £650m turnover firm this week
McLaren has appointed former Sir Robert McAlpine London boss Paul Heather into a new role at the £650m turnover business as it looks to challenge the premier league of Tier 1 firms for work.
Heather, who started this week, left McAlpine last September after four years at the firm, having joined it from Skanska where he spent 17 years.
His new role at McLaren is group managing director of its construction business where he will report into the firm's owners Kevin Taylor and Phil Pringle. "We've been talking to Paul since before Christmas," Taylor, who is the firm's chairman, said.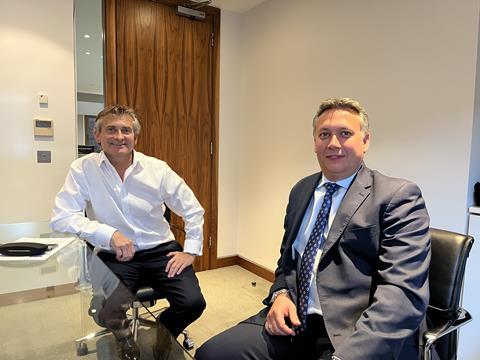 Taylor added the firm's construction arm was eyeing revenue of £750m in its next financial year, which ends in July 2023, and is looking at recruiting a further 100 people to the payroll to bring the number up to 750.
He said McLaren was eventually looking at picking up some jobs currently the preserve of a handful of major contractors.
Its major clients include British Land and Taylor added: "It will take time but other developers of that ilk have asked us to discuss projects with them that haven't in the past. It's a growing market and there is space for new entrants."
McLaren recently beat Sir Robert McAlpine to an £80m scheme to turn the former House of Fraser flagship on London's Oxford Street into a mixed-use scheme.
"Paul will help us grow London and major projects," Taylor said, adding the firm was also looking at carrying out some construction management work.
One industry source said: "Paul Heather is a highly regarded guy in the London scene. I think a number of the premier league Tier 1s have lost their way and the clients are disillusioned with what value they are bringing. He will give McLaren more kudos in the eyes of both developers and the key design and cost consultant houses."
And one major London consultant added: "I think it will take more than [Paul Heather] to rival the Tier 1s at the moment but it's a step in the right direction."
At McAlpine, Heather worked on a number of high-profile schemes include the Stirling Prize-winning Bloomberg building, 100 Liverpool Street for British Land and the redevelopment of Wimbledon No 1 Court.
McLaren to offer Ukraine refugees work
McLaren chairman Kevin Taylor has said the firm has written to the government telling it that it is ready to help offer jobs to Ukrainian refugees.
"It's terrible what is happening," said Taylor. "We would like to help. We are keen to give people from Ukraine employment." Taylor said it would work with labour firm Shore Group to get the initiative up and running
Redrow founder Steve Morgan has pledged to pay for 1,000 Ukrainian refugees to come to the UK.
And over the weekend, it emerged that a group of more than 45 large businesses is pressing the government to make it easier for those driven out by Russia's invasion to come to the UK.
Marks & Spencer, Asos, Lush and recruitment giant Robert Walters are some of the firms involved.
The government has been criticised over the speed and scale of its response to the Ukraine refugee crisis, with Morgan saying it was moving too slowly to help people fleeing the war which is now in its third week.