Winner for high-profile deal in east London emerges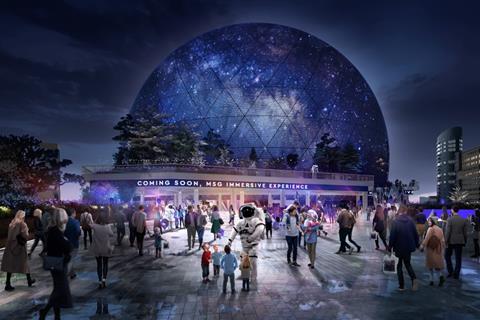 McLaren is being tipped to land the deal to build entertainment giant Madison Square Garden Company's first venue outside its US home in east London.
The firm was up against remaining rival Sir Robert McAlpine for the work known as the Sphere.
Building understands McLaren is now set to bag the construction contract on the project, which is believed to have a development value of £800m.
McAlpine had been considered favourite for the work after completing the £131m O2 Arena scheme for Anschutz Entertainment Group (AEG) more than a decade ago. But one source said: "I think McAlpine had issues with the type of contract on offer."
The scheme has been designed by O2 architect Populous and will be wrapped in triangular LED panels which will show a range of static and moving images including digital art, promotional material for the venue itself – which will have a capacity between 17,500 and 21,500 – as well as adverts.
Another source said the scheme was hugely complex and added: "There are a lot of unknowns in all of this. It's a hard site."
Among the technologies being promised by MSG are the largest and highest resolution LED screen in the world, an adaptive acoustics system to deliver crystal-clear audio to every guest, a haptic flooring system that will convey bass through the floor so that the audience can "feel" the experience and wireless connectivity that delivers 25 megabits per second for every guest to give greater interaction among fans.
The site in Stratford runs across nearly 3ha and was last used as a coach park during the 2012 Olympic Games.
MSG said the 20,000-capacity O2 and the 12,500-capacity Wembley Arena were the only two venues in London capable of hosting bands that embark on world and European tours.
A smaller 1,500 capacity venue is also planned at the Sphere site along with restaurant and retail space. The scheme will include building new bridges over neighbouring railway lines.
Others working on the scheme include planning consultant DP9, M&E engineer Me, acoustic engineer Arup and cost consultant RLB.
MSG said a contractor had not yet been appointed.