Contractor reports solid half-year results, with rising almost three-fold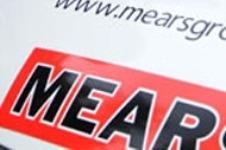 Mears has reported an almost three-fold increase in pre-tax profit in solid half-year results for the six months to 30 June 2014.
Pre-tax profit for the period grew 259% to £14m, up from £5.4m the previous year, while revenue dipped marginally by 3% to £428.1m, down from £439.1m.
The firm's social housing division grew revenue 3% to £364.9m, up from £378.6m, and reported an improved operating margin of 4.2%, up from 3.7%.
The firm's care division grew revenue 5% to £63.2m, up from £60.5m, while its operating margin remained at 7.8%.
The firm's order book dipped marginally to £3.7bn, down from £3.8bn, which the firm said reflected a "period of change in respect of housing finance and welfare reforms [which] has resulted in a short-term delay in new bidding opportunities."
David Miles, chief executive of Mears, said: "We have had a good first half year and, notwithstanding the temporary delays in tendering new opportunities, the board expects earnings for the full year to be in line with its expectations."