More than 180 maintenance staff for 12,000 properties in Manchester to take action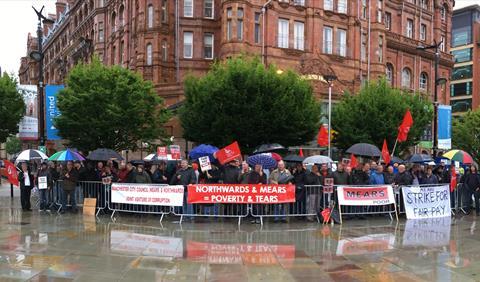 Housing maintenance staff employed by Mears in Manchester have voted in favour of further strike action in a longstanding dispute over pay.
The social housing firm is employing 180-plus people to oversee maintenance work on over on over 12,000 properties managed by Northwards Housing Association, a contract which was tendered by Manchester council.
These staff have already taken over 40 days of strike action this year over differentials of up to £3,500 they claim are for the same role.
Through their trade union Unite, they have voted for more action, with the strikes expected to begin next month. This is also likely to run during the winter period when bad weather increases the requirements for repairs.
It said the new action is being taken as a result of Mears failure to meaningfully negotiate on pay and conditions; the detrimental treatment of workers during the previous dispute; attacks on workers holiday entitlement; allocation of work to subcontractors; inappropriate allocation of work to apprentices and trainees and unilateral changes to working hours and conditions for some of the affected employees.
Gary Fairclough, regional officer at Unite, said: "The overwhelmingly vote in favour of strike action demonstrates the determination of Unite members to force Mears to address the injustices in the workplace. The result shows that Mears' is entirely deluded in thinking that the dispute would disappear.
"Rather than trying to end workplace injustice Mears has instead been using its energies to bully and intimidate our members, attempts that the ballot result demonstrates have miserably failed.
"The impending industrial action will inevitably cause widespread disruption to housing tenants but this dispute is entirely a result of Mears' failure to resolve this longstanding dispute."
But a Mears spokesperson accused Unite of not showing a willingness to negotiate, adding it had made a number of attractive offers to the trade union.
"This new strike action could be avoided if Unite showed any willingness to negotiate. We have made several attractive offers to Unite and we are disappointed in their reluctance to move forward constructively.
"Despite this, we continue to maintain good services for our understanding customers and clients."