Region eclipses Asia as number one while practice's turnover and profits head north
The Middle East is now the biggest single market for Zaha Hadid with the region accounting for 40% of the firm's business.
The news has been disclosed in the latest report and accounts of Zaha Hadid Holdings which have been filed at Companies House.
In the year to April 2014, the Middle East made up £19.1m of the practice's £47.5m turnover with the next best region, Asia, accounting for £12.5m of revenue – a decline on last year's £13.3m.
Among the schemes it is working on in the Middle East is a new headquarters building in Sharjah, UAE, for waste management firm Bee'ah. The 7,000sq m building is designed to resemble sand dunes in the surrounding desert.
Its workload in the Americas was also on the rise with revenues in the US more than tripling to £4.4m while business in Central America shot up from £234,500 in 2013 to £2.4m last time.
But business in Europe halved to £4.2 million while its work in the UK also fell – slipping under the £1m barrier to £983,000 from £1.5m the year before.
Overall revenue was up 28% while pre-tax profit was up a third to £5.7m.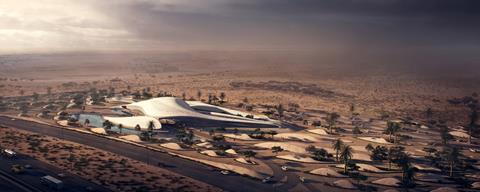 In a statement accompanying the accounts, Hadid said: "Working in established markets, ZHG has developed new opportunities and continues to build its presence across Asia, the Middle East, Australia and the Americas; while the popularity and recognition of its completed projects demonstrate ZHG's steadfast commitment to the highest standards of design and innovation."
The number of staff at the business went up to 418 people from 354, meaning its wage bill swelled to £15 million from £12.9m.
The accounts also reveal that the company paid just over £900,000 of Hadid's personal expenditure – a hike of 108% on the £435,000 racked up in 2013 – and also paid her personal tax bill of £333,000.
It made a donation of £255,000 to the Zaha Hadid Foundation whose aims are described in the accounts as "the advancement of education and the promotion of useful knowledge relating to architecture".
Accounts for its main subsidiary, Zaha Hadid Ltd, show that it paid an interim dividend of £2.4m.
Source
This story first appeared in Building Design here.