The housebuilder lays out new plans for further growth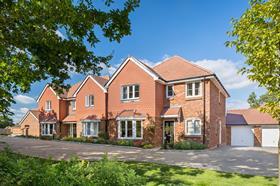 Miller Homes has posted a 91% increase in its pre-tax profit to £62m for 2015, up from £32.5m for 2014 on the back of favourable market conditions.
Revenue for the housebuilder was also up 29% to £500m for the year, up from £387m for 2014 as it published its lastest financial results.
The firm said it was "encouraged" by the government's proposed planning reforms and had increased its land investment by 24% to £126m in 2015 bringing Miller Homes' total land bank to 16,153 plots for 2015. Around 11,600 plots are consented land.
Miller Homes reported that it had reduced its less profitable legacy land during the year and increased its use of strategic land, adding that as itcontinues to trade through what is left of its legacy land bank and replace it with new sites it sees further improvements in margins and profits.
Newer sites also have a higher allocation of affordable housing compared to the old legacy sites which has seen Miller's affordable housing completions rise to 305 for 2014, up from 231 for 2014.
Annual inflation was around 4% the firm said as it saw its overheads increase in 2015 largely due to an increase in staff costs and incentive arrangements as the labour shortage in skilled workers rumbles on.
Miller Homes said it has also arranged a new £210m bank facilities with its existing lender to take it through to 2020.
Chief executive Chris Endsor said 2015 was an "outstanding year" for the company and sees "further significant growth," which has seen Miller Homes announce plans to up output by 50% to 3,250 units by 2019 and deliver an operating margin of 18% by 2017.