Government set to ban aluminium composite material cladding but looking into other potentially flammable finishes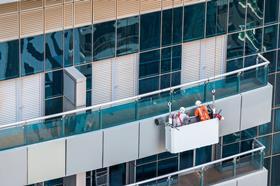 The government has revealed it is widening its probe into cladding following last year's Grenfell fire and is now assessing the risks posed by non-ACM material.
Post-Grenfell initiatives has so-far focused on the role of combustible aluminium composite material (ACM) cladding, with government telling developers and owners to remove ACM or face financial penalties.
But an advice note issued by the ministry of housing, communities, and local government said the government is expanding its probe into the risks associated with spandrel panels and consulting with experts on whether further guidance is required.
Social landlords have previously raised concerns over issues with cladding types such as expanded polystyrene and high-pressure laminate.
The note ends: "Notwithstanding this, building owners should not delay the removal of spandrels where they are assessed to be unsafe."
It comes as government has started distributing around £400m to replace ACM cladding on high-rise residential buildings owned by local authorities or housing associations.
But it has yet to offer funds for the removal of other types of cladding, leaving some local authorities to fund removal of non-ACM cladding themselves.
Earlier this month James Brokenshire, secretary of state for housing, communities and local government, said he would ban the use of combustible cladding in future developments.
A number of developers have set aside funds to pay for suspect material to be removed and replaced, including Bellway and Barratt.