Deal includes six facilities across England and Scotland
Modular specialist Elliott has been chosen to build half a dozen covid-19 test centres across the UK, on behalf of the Department of Health and Social Care.
With current covid-19 test centres operating at maximum capacity, Elliott will deliver the facilities at locations running from Keele in Staffordshire up to Stirling in Scotland.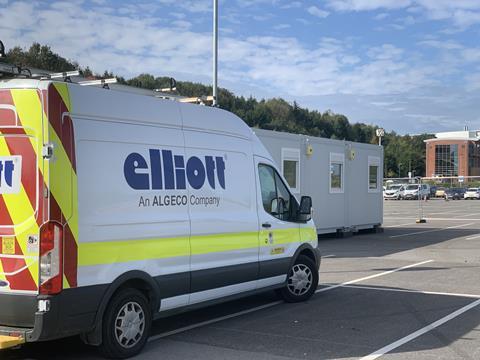 The other four facilities, being built as the government scrambles to meet the rise in covid-19 case, will be in Liverpool, Stockton, Accrington and Ellesmere Port.
Elliott will also provide a queuing marquee, perimeter fencing and crowd safety barriers. Water tanks and generators will be given so that the sites can run constantly.
The firm has carried out a number of pandemic-related jobs for the NHS, including working on Interserve's Nightingale Hospital in Birmingham and several hospitals across Greater Manchester.