Trade group north of border drawing up checklist to educate hostile public
As more and more sites open across England and Wales, a Scottish trade group set up last month to coordinate the industry's response to the coronavirus pandemic north of the border has reported an increase in the number of builders being abused for going to work.
Latest figures from Build UK show that 70% of its members' sites are up and running after being shut down days after Boris Johnson announced a lockdown more than five weeks ago.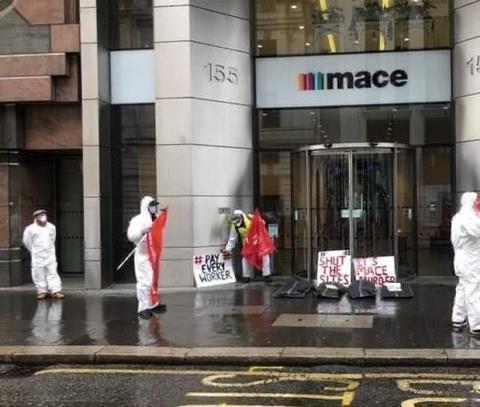 Build UK's figures reflected the problems facing sites in London, in particular getting workers to jobs without using public transport.
Several flagship schemes in the capital, including the Battersea Power Station redevelopment being built by Mace and Sir Robert McAlpine, which had over 4,500 workers on it before the coronavirus crisis escalated, and Lendlease's Google headquarters scheme at King's Cross remain shut.
The group said while productivity on construction and infrastructure sites is averaging 67%, this number dropped to 56% in London.
The industry has been concerned about some of the criticism it has received for keeping sites open – in accordance with government instructions.
Reports of workers being heckled prompted firms to issue staff with instructions to report such incidents.
This week a handful of protestors, believed to be from the Unite union, picketed Mace's main office in London and a nearby Laing O'Rourke job with signs calling for sites to remain shut.
It is largely being seen as an isolated incident but the experience of workers in Scotland, where non-essential construction work has been banned by the Scottish government, has prompted the Construction Industry Coronavirus (CICV) Forum to draw up a checklist of projects to help the public understand the range of work classified as essential.
The CICV said builders were facing growing amounts of abuse and one contractor said: "On one commercial job, our engineers were subjected to a barrage of abuse by residents and staff. In the end, the local authority had to put up posters explaining that we were carrying out essential work. It was the only way our engineers could be left alone to do the work."
The CICV, whose members include the Lift and Escalator Industry Association and the Scaffolding Association, also plans on-site signage to help workers make it clear to the public they are carrying out essential work only.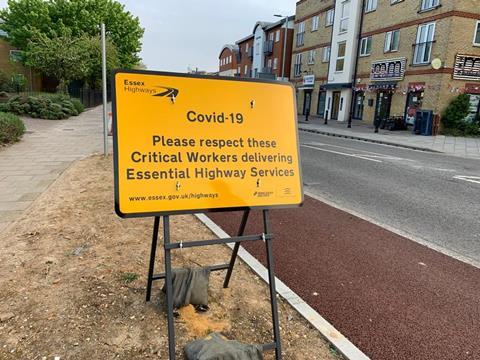 John McKinney, secretary of Forum members the National Federation of Roofing Contractors, the Stone Federation and the Scottish Contractors Group, said: "Greater understanding is needed among the public to understand that the key workers carrying out such work aren't flouting the rules – they are performing essential tasks and should be allowed to do so without fear of abuse."
Scotland's minister for local government, housing and planning Kevin Stewart added: "It is important that the public understand that there is still a need for essential works to be carried out in these challenging times and industry professionals should be able to complete repairs in safety, without fear of criticism and rebuke."
Among the schemes that can be carried out in Scotland are critical road repairs, emergency call-out work and repairing essential buildings such as fire and police stations.