Latest job at £470m city centre site has been designed by Feilden Clegg Bradley
Sheffield city council has put firms on notice for the next phase of work at its £470m Heart of the City II mixed-use scheme.
The main contractor will be completing work on a £37.5m development designed by Feilden Clegg Bradley, known as Block H or Five Ways Square.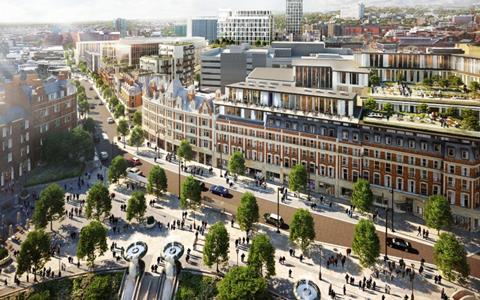 The city centre block will include a seven-storey new build office with around 40,000 sq ft of office space and retail units and restaurants on the ground floor.
The contractor will also complete refurbishment works on existing buildings, one of which is grade II listed, on Cambridge Street and Wellington Street, as well as build a new arrival building and covered event space.
The nine-block Heart of the City II scheme (pictured) is being developed by Queensberry and includes hotels, shops, a food hall, public spaces and accommodation for the area behind Pinstone Street.
Galliford Try was appointed last March for two blocks designed by Leonard Design Architects.
Sheffield-based contractor Henry Boot was also appointed for another development known as Kangaroo Works in June last year.
The winner of the latest contract will start work this October and complete in June 2022.
Bidders have until 30 March to express interest.