Fit-out work spearheading booming trading conditions
Morgan Sindall is expected to post a pre-tax profit this year in excess of £100m for the first time after the firm said a trading boom had put it on course to beat the historic number.
Chief executive John Morgan told Building the firm, which dates back to 1977, decided to put out an unscheduled trading update after upgrading its profit forecast by double digits.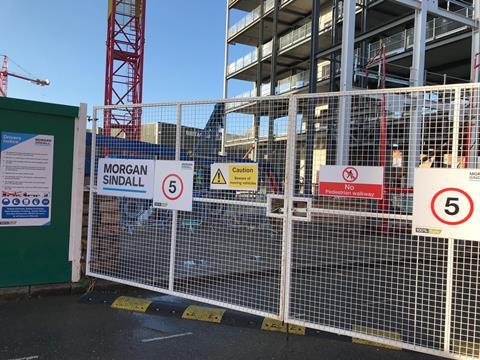 Analysts are now predicting a pre-tax profit for the year of £109m, up 17% on its previous forecast made in February when it announced its 2020 results.
Morgan, who had already said it expected to beat its profit record this year, added: "We wouldn't have upgraded so early if we didn't feel positive about the year as a whole."
In its update, the firm said it expected its average daily net cash balance to be "significantly" more than the £180m previously forecast with the figure for the period between the start of the year and 20 April standing at £288m.
"Having a strong balance sheet is key," Morgan added. "You need a good balance sheet because things can go wrong. You need to be good payers to the supply chain."
Morgan said its fit-out arm was on track to beat its medium term operating profit target of £35m with Morgan admitting he was "pleasantly surprised" how well the market has held up in the wake of the covid-19 pandemic.
He said he expected the division to have a record order book this year – the firm does not count jobs where it is preferred bidder – and added: "We're doing quite a lot of big jobs at the moment, new buildings in the City and places like that."
He said the expected glut of work from businesses reconfiguring their office space ahead of staff returning to the office had not happened yet. "People are thinking about it but we're not seeing it as much as I would have expected. People don't know what the post-covid world is going to be like."
Morgan added: "[The pandemic] has increased the trend of people working from home. What would have taken 10 years has taken one. It's speeded up those trends. But the office is not dead, it's a place to exchange ideas and views and we're finding companies want to get their people back."
Workloads from its construction and infrastructure business were also on the rise with the firm picking up more public sector building jobs, such as schools, where typical contract values are between £15m and £20m. In infrastructure, Morgan said the firm had won more work on the Tideway super sewar scheme in London as well as extra nuclear work at the decommissioning of the Sellafield nuclear plant in Cumbria.
Numis analyst Jonny Coubrough said it expected this year's pre-tax profit to be 21% ahead of the figure it posted in 2019 which itself was a record £89m. It said that profit for next year would remain flat at £109m.
Morgan Sindall said its order book at the end of last month was £8.1bn, up 8% on the same period last year.