Chief executive lays out plans for future of firm as company's annual results show disappointing performance from affordable housing arm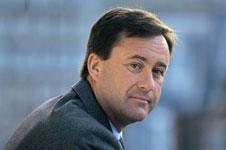 Morgan Sindall expects to make up to £15m in annual savings through its restructure, which saw the firm close a number of regional offices last year and reshape its business around four regions.
Speaking to Building after the contractor announced its results for the year ending 31 December 2012, chief executive John Morgan (pictured) said the restructure would lead to £13m-£15m in annualised savings, as well as ensuring the firm was a "more flexible business that is able to move with market demands". The restructure cost the business £10m in redundancy payments and property costs.
He said the firm had no immediate plans to engage in further restructuring, but was "always keeping an eye on what's happening in the market".
Morgan said he was broadly pleased with the results (see box), but that the performance of the affordable housing arm - which saw revenue fall 17% to £386m and profit down 38% - was the main disappointment.
He said the firm wanted to improve this part of the business by focusing on large, mixed-tenure schemes.
He said the construction margin of 1.7% was "more likely to worsen than get better in 2013" but expected margins in the fit-out business and the affordable housing arms to improve.
Morgan, who returned to the role of chief executive last November, said he was focused on "tighter" implementation of the firm's strategy. He added: "The biggest thing I'm looking to do is we've got lots and lots of businesses where, on their own, they compete very nicely in their markets.
"But by pulling two or three of them together for certain pitches we can actually punch well above our weight and win jobs where other competitors can't put forward such strong propositions."