Contractor's  construction and infrastructure operations set to produce second-half margin of at least 2%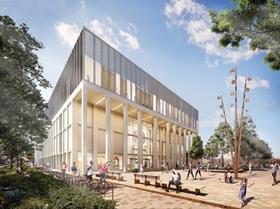 Morgan Sindall said it expects its construction and infrastructure operations to produce a margin of at least 2% in the second half of the year, according to a trading update issued by the group today.
The contractor said it had seen strong trading in the second half of the year and was expecting total turnover and pre-tax profit figures for the year to the end of December to be in line with analysts' forecasts, with turnover of £3bn and pre-tax profit of £80.7m. It also expects its average net daily cash figure for the year to be at least £90m.
Last year Morgan Sindall reported annual turnover of £2.8bn and a pre-tax profit of £66m. The group's construction arm recently was recently chosen as the preferred bidder for phase one of a £385m mixed-use scheme for Hackney Council (pictured).
As well as a second half margin improvement in its construction and infrastructure business Morgan Sindall said its fit-out operation was expected to deliver turnover and profit growth for the year, while its property services had seen an improved second half margin performance.
The firm's regeneration business was on track, it added, with a costly design and build scheme in London now completed, while its urban generation arm was expected to deliver a slightly improved result compared with expectations.
As at the end of September the group's committed order book was £3.4bn, down 11% compared with the year end and 5% lower than the half year end position, a position it said was "consistent with a continued focus on contract selectivity and quality of earnings".
Its regeneration and development pipeline was £3.3bn, up 2% versus the year end but down by a similar amount since the half year end.
The group is expected to announce its full year results for 2018 in February next year.