Government's chief construction advisor says flagship scheme will likely only prompt action in 5-10% of households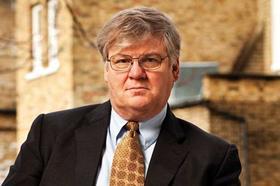 The government's chief construction advisor has said he thinks the Green Deal's potential impact on construction and climate has been "oversold".
Responding to questions from a delegate after speaking at the Chartered Institution of Building Services Engineers' (CIBSE) conference this morning, Paul Morrell, the government's chief construction advisor, said: "The Green Deal has been oversold in how much can be achieved."
He added: "The number of people that it brings into the market place may be 5% to 10% of those that have not done anything [on energy efficiency retrofit] already."
However, he said the scheme had solved the problem of financing retrofit schemes when people did not have the money upfront, which only the government was in a position to do. He said the architecture was now in place but the offer needed to be sold to the public.
During his keynote speech at the conference he warned that if the UK construction industry did not embrace technological change, including greater prefabrication, then it could be overtaken by newcomers to the market such as car giant Toyota, which has already moved into building homes in Japan.
But he also urged the industry to sell itself overseas, especially in markets with expanding populations such as China and India, using its success in building the Olympic Park as a spring board.