Outgoing construction adviser says the CBI council cannot be only industry route to government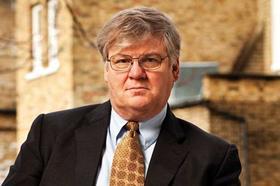 Former chief construction adviser Paul Morrell has spoken of his "massive frustration" at the failure of the industry to agree a co-ordinated way to communicate with government during his tenure in the post.
In the first of a three-part interview with Building magazine, Morrell said he "didn't understand" the position of the UK Contractor's Group, which represents the biggest contractors in the industry, which has said that all communication with government should be done via its joint venture with the CBI, the CBI Construction Council.
The UKCG effectively blocked moves to institute a revamped Strategic Forum as the main route for industry to talk to government, by making it clear it would not support any new body that it felt duplicated the work of the CBI Construction Council. Morrell said he accepts the CBI Construction Council is a valid route through which the industry could lobby the government to commission more construction work.
However, he said there also needed to be a separate forum for the government to discuss with industry reforms designed to make the industry safer, more effective and better quality.
Asked if he was frustrated with the role of the UKCG, Morrell said: "Of course it's a frustration when you want to talk about an integrated industry, and the integrator chooses not to participate. That's a frustration. And it's one I don't understand.
He said it was damaging in terms of the industry's relationship with politicians. "More than one minister has said to me, "if I want to talk to the industry, where do I find it?" It's a massive frustration of ministers, [when] they can't find an industry to have a conversation with."
Stephen Ratcliffe, chief executive of UKCG said: "This is Paul's view and it's well known to UKCG. We have had extensive dialogue with him but it's not the view of the UKCG member companies."
"We spent the last four years building an effective voice through the CBI and we don't see a need for another body. That's not to say we don't talk to the other bodies."
Ratcliffe said that UKCG's members were not prepared to pay twice for the same thing.
Later Morrell speaks out on specialists concerns over abuses by main contractors