Group director of property reveals more firms may be added to framework for £500m a year development pipeline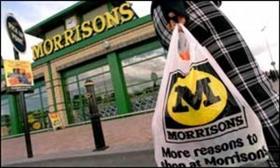 Morrisons is open to appointing new construction suppliers to help it deliver its multi-channel expansion plans, the retail giant's group director of property Terry Hartwell has told Building.
Morrisons is expanding into convenience stores and online retailing from this year, with plans to open 300 local stores by 2015 and launch an online retailing service from January, after sealing a £216m tie-up with Ocado in May.
Hartwell said the retailer would spend £500m a year on its overall development pipeline from next year, with its estate set to grow by 3-4% per year, faster than the company's long-term average.
Morrisons is opening 100 convenience stores, branded "M Local", this year and Hartwell expects the retailer to deliver 100 convenience stores per year "for the foreseeable future". Morrisons typically procures work through frameworks and has contractor and consultant frameworks for superstores, convenience stores and retrofit work.
But Hartwell said the retailer was open to new suppliers. "
Just because we've got a framework doesn't mean we're not open to working with new people," he said.
To read the full interview with Steve Hartwell click here.