Independent UK engineer buys out parts of its North American joint venture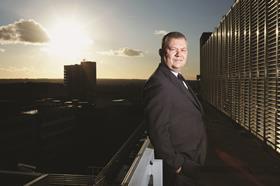 Independent UK engineer Mott MacDonald has added 2,000 staff and 62 offices to its growing North America business, after buying out parts of a long-standing joint venture business, Hatch Mott MacDonald (HMM).
Under the deal, which completed today, Mott MacDonald takes over HMM's US business and its North America-wide pipelines business. Canada-based Hatch acquires the rest of HMM's Canada business.
Mott MacDonald said its North American clients now span the transportation, water, wastewater, oil and gas, power, pipelines, tunnels, buildings, stadiums, education, health and international aid sectors.
Keith Howells, Mott MacDonald (pictured) chairman, said: " "Renewing roads, bridges, airports, railways and water systems is vital to keeping North America economically competitive but realising large-scale infrastructure projects requires innovative approaches to finance, procurement and engineering.
"With our additional staff and offices we are in a stronger position than ever before to work in partnership with our clients to help them address these issues and provide real, everyday improvements to the lives of North Americans."
Mott MacDonald has played roles on some of the region's largest infrastructure projects such as East Side Access in New York, the San Francisco-Oakland Bay Bridge, the Tampa Bay and Carlsbad desalination plants, the Brayton Point cooling towers in New England, DC Water capital improvement programme, Mosaic Stadium in Regina, the New Irvington Water Tunnel in California, and the Centre Hospitalier de l'Universite de Montreal.
The HMM transaction was first announced last November.