Proposal by Tory backbencher Peter Aldous will see retentions held in trust scheme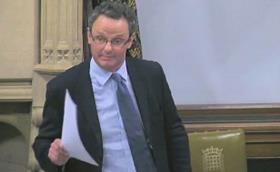 Tory MP Peter Aldous is behind plans to change the law on where retentions on construction jobs are held.
The 10 minute rule bill wants to amend the 1996 Construction Act and ensure that retentions within construction are held in a third party trust scheme.
Aldous (pictured) said the aim of the bill is to protect companies in the construction supply chain from insolvency and payment uncertainty.
The bill is being backed by the Building Engineering Services Association and the Electrical Contractors' Association.
BESA's legal and commercial director Rob Driscoll said: "The case for reform is inherently connected to the government's industrial strategy…government intervention is necessary to secure working capital that underpins the delivery models for the industry as a whole."
The first reading of the bill will be on 9 January although it is unlikely to be passed into law – 10 minute rule bills are introduced by a backbench MP to make the case for a new bill in a speech lasting up to 10 minutes.
But government usually opposes private member's bills in the later stages and given their low priority in the schedule, there is often not enough time for a debate to be completed.