Qualification designed by ISG and examination board WJEC set to be launched later today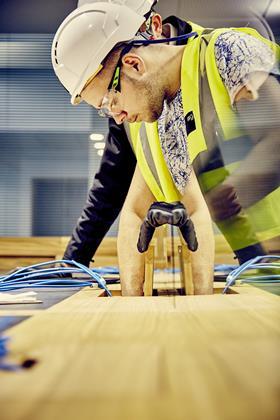 A new construction qulification developed by ISG and examination board WJEC is set to be launched in the House of Commons this afternoon.
The course, which is the country's first Level 3 Applied Diploma in Professional Construction Practice (PCP), will be officially launched at an event hosted by Labour MP Christina Rees later today.
The course is aimed at students who would normally focus on core STEM subjects and aims to both change perceptions of the industry and better prepare young people for progression into Level 4 built environment qualifications.
The PCP qualification is worth up to 56 UCAS points, the equivalent of an A-Level, and provides insight into modern construction management practices, encompassing the technologies, behaviours and innovation that support the delivery of world-class and iconic buildings.
Modules within the course include an introduction to Building Information Modelling, the use of drones, laser scanning technology, and AI and VR in the built environment.
ISG said the the technological focus of the course was a deliberate response to broaden the appeal of construction and that the PCP qualification, would help to change the conversation around construction for educators, parents and pupils by providing an earlier gateway into the profession for a large number of students who might never have considered a career in the built environment.
Paul Cossell, ISG's chief executive, said: "The problem we have as an industry is that a third of our workforce is now over 50 years old and we are not doing enough to educate and expose young people to the amazing opportunities that exist in this vitally important industry that delivers the infrastructure, hospitals, schools and homes that support our very existence.
"The PCP qualification is our response to engaging the brightest and most talented young people at an earlier age, with a Level 3 qualification that can sit alongside and complement existing STEM subjects."
Neath Port Talbot College Group of Colleges is the PCP diploma's first partner and sponsor, with the first intake of students set to take place next September.