Poll claims that less than a fifth of MPs back Thames Hub project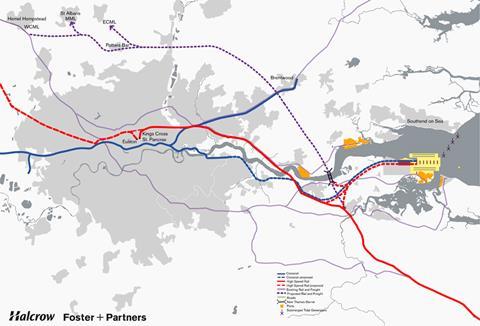 Less than a fifth of MPs back plans put forward by Foster + Partners and Halcrow for a major new airport in the Thames Estuary, a new poll suggests.
The vision – which is broadly similar to the favoured option of London mayor Boris Johnson – was supported by only 16% of MPs according to a poll by Ipsos Mori reported in the Daily Telegraph.
Some 59% opposed the plan, of whom 35% said they were 'strongly opposed'. Eleven per cent of the MPs questioned refused to give their view.
The scheme, which was set out in detail in Building by Foster + Partners' partner Huw Thomas earlier this month, could be built within seven years with the right political will, the architecture firm has claimed.
However, Heathrow expansion is the most popular option among MPs, winning the support of 46% of them, the Ipsos Mori poll said.
Meanwhile, 42% of the MPs questioned support the building of additional runways at Gatwick, and 39% support building at Stansted.
Make Architects has drawn up plans for a four runway future at Stansted Airport, which would allow the hub to handle up to 150 million passengers a year while Gatwick airport is pushing for a second runway.
Expanding Heathrow is most popular with Labour MPs, with 50% supporting it, against 47% of Tories.
In September, former Olympic legacy boss Daniel Moylan was appointed by Johnson to make the case for the new hub airport.