Heathrow expansion backed at expense of schemes by Foster & Partners, Halcrow and Gensler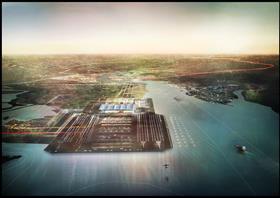 A committee of MPs has rejected the idea for an airport in the Thames Estuary, as proposed by architect Foster and Partners, in favour of expanding Heathrow.
The report by the Commons Transport Committee concluded that a hub in the Thames Estuary was not an effective solution for the country's lack of hub airport capacity.
The committee considered several schemes for a Thames hub including the Foster and Partners and engineer Halcrow scheme, and architect Gensler's floating airport scheme.
Louise Ellman, chair of the committee, said a third, and possibly a forth, runway at Heathrow was necessary.
She said: "The viability of an estuary hub airport would also require the closure of Heathrow – a course of action that would have unacceptable consequences for individuals, businesses in the vicinity of the existing airport and the local economy."
"Research we commissioned made plain that building an entirely new hub airport east of London could not be done without huge public investment in new ground transport infrastructure," she added."
The report also said adding further runways to other existing airports, including Gatwick, was not a "long-term" strategy.
It recommended that HS2 should be connected to Heathrow to encourage its development as a hub airport.
It also said the government should develop a coherent national strategy to improve road and rail access to current UK airports.
Ian Mulcahey, project director for Gensler, said he was "disappointed" that "the committee would dismiss the estuary options as too expensive when their own recommended option to expand Heathrow to a, day time only, four runway airport has never been fully costed".
He added: "We look forward to the Davis Commission which will be able to more fully examine the opportunity for broad based benefit to the Nation's economy with a long term solution to London's aviation crisis."
Mayor of London Boris Johnson, who has consistently backed plans for an airport in the Thames Estuary, said expanding Heathrow to four runways was "sheer lunacy".
He said: "By suggesting that Heathrow should double its runways from two to four, the committee is putting four fingers up to the hundreds of thousands of Londoners already affected by the serious noise and air quality impacts of Heathrow, and to the thousands more who would be caught by this nightmarish plan."
He added: "London and the wider UK do need a hub airport that can operate twenty-four hours a day without constraint and the only place that is possible is to the east of London."
A spokesperson for Heathrow said the committee's "recognition of the unique importance of a hub airport to the UK economy" was welcome.
They added: "As its members point out, a hub airport is the only way of making direct and regular flights to a wide range of global destinations viable which is important for jobs and growth."