Government accused of being 'less than clear' over budget
The programme to build HS2 has gone "badly off course", the Public Accounts Committee has warned.
The watchdog MPs yesterday published a report, High Speed 2: Spring 2020 update, providing its latest update on the scheme.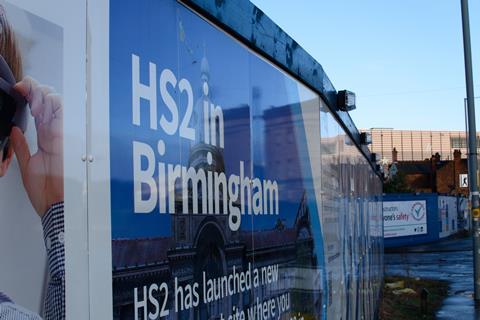 The report said: "The HS2 programme has gone badly off-course and is now estimated to cost up to £88bn, significantly more than the original budget of £55.7bn (both figures are 2015 prices).
"We are unconvinced that there will not be further cost increases, such as those we have seen in Crossrail and many other programmes, especially given that the route and forecast cost of the northern sections of the proposed railway is still very uncertain and will remain so for years to come."
The MPs also slammed the government's handling of the programme – saying the public's confidence in it had been undermined.
It said the department for transport (DfT) had failed to provide parliament with a clear warning that the programme was going off-course and value for money was at risk.
It said: "At best, the department for transport's previous evidence to the committee has been less than clear. The department withheld information from us which would have given a clearer and more accurate picture of the budget and schedule pressures the project was facing.
"The department and HS2 Ltd seemed to believe that a lack of transparency with parliament and the public on the problems facing the programme would in some way protect it."
The MPs said that with so many peoples' homes and livelihoods affected by the construction of the railway, there was "no justification for the department and HS2 Ltd having been so opaque about the delays and budget overruns".
It said now that the government has given the programme the green light there had to be much greater transparency in future.
The committee recommended that within three months of this report, the DfT needed to set out the form of its regular reporting to parliament on HS2.
MPs also warned that despite having raised concerns in the past, they were not convinced that the DfT and HS2 have the skills and capability they need now or in the future.
The DfT has also been told it must write to the Public Accounts Committee within six months of this report setting out its plan for Euston, including how it will be delivered and how it will ensure effective working between all stakeholders.
The report said: "Several years into the programme, we are concerned by the huge uncertainty remaining with the design and delivery of Euston station."