Scottish authority says soil Taylor Wimpey delivered for primary school job was 'unsuitable'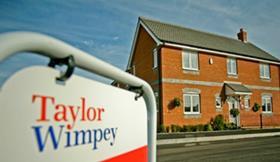 A local authority in Scotland wants the country's second biggest housebuilder to stump up the money it says it will have to shell out replacing the wrong kind of soil used to build a primary school.
Taylor Wimpey and Cala Homes, which is headquartered in Edinburgh, were asked to provide topsoil to the £15m school being built by Bam as part of a deal which saw the pair cleared to build more than 100 homes at a site near Giffnock, five miles south of Glasgow, in return for a parcel of land to build the school.
According to a council report, Taylor Wimpey and Cala also agreed to deposit 5,600m³ of topsoil on the Maidenhill site in order to save East Renfrewshire council money on having to ferry in the soil from elsewhere.
But the report, written by the authority's director of environment Andrew Cahill and due to be discussed by the council later today (Thursday), says: "The topsoil delivered failed analytical tests and was declared unsuitable as topsoil."
Bam, which began work on the school in May, used a "substantial proportion" of the earth as sub soil but the council said it will now be forced to truck in replacement certified topsoil to keep the primary school on schedule.
Now East Renfrewshire wants the pair to stump up the cost of the remedial work after council leader Tony Buchanan and deputy leader Paul O'Kane had to give urgent approval for the £67,000 to be spent removing and replacing the topsoil.
The report says: "The anticipated cost of removal and replacement of this topsoil material is predicted to be in the region on £67,000." It adds: "Council officers are progressing with a claim against the developers."
The council said it looked at suspending work while the claim is resolved but decided against because it would have meant the school missing its opening deadline of August next year.
A spokesperson for Cala Homes and Taylor Wimpey at Maidenhill said: "Cala and Taylor Wimpey will continue to work positively with East Renfrewshire council to deliver this key development. We are confident that we have delivered the topsoil in accordance with the agreements made with the council and at present we aren't aware of any claim having been made. We will seek clarification from the council."