Firm sees margins hit by unnamed scheme after turnover jumps to £1.2bn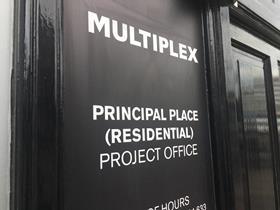 The gloss was taken off Multiplex's numbers last year with the firm taking a hit on a scheme for which it said it has been forced to make a provision of £10m.
The firm behind Foster + Partners' Principal Place resdiential scheme on the Shoreditch fringe is working on a string of tower schemes in the capital, including the City's tallest block, the 278m high 22 Bishopsgate tower, the 50-storey One Blackfriars residential job at the southern end of Blackfriars Bridge and the 56-storey One Nine Elms job coming out of the ground at Battersea.
Multiplex is now one of the largest building contractors in London and last year saw turnover increase 12% to close to £1.2bn.
But the firm's underlying 3% margin would have been closer to 4% had it not been for "reduced margins on a challenging project which will be completed in 2018". The firm said it had made a cost provision of £10.4m against the job which helped send pre-tax profit down from £16m to £4.2m in the year to December 2017.
The firm, which is also bidding for the 50-storey 6-8 Bishopsgate scheme being developed by Mitsubishi Estate, said staff numbers increased at the business by 9% to just over 1,000.
Multiplex said the firm hadn't noticed too much of an impact of Brexit on its upcoming workloads with the contractor saying that its order book at the year-end stood at £4.2bn, up by £600m on the year before.
It has three years' worth of work on its books and its current roster of schemes includes 12 residential projects worth £2.2bn and five commercial jobs worth £1.7bn.
In a strategic report signed off by managing director Ross Ballinghall, it added: "Office space in London remains in demand as does high-end and ultra-high-end residential property."
Other schemes it won last year included architect KPF's £240m Jenga Tower scheme – officially known as Aykon London – in Nine Elms and a £217m deal to build the first phase of the Royal Albert Dock redevelopment in east London.