One Nine Elms had been mothballed because of funding problems for Chinese developer
The delayed £1bn One Nine Elms project in London is now on course for completion next November, according to the scheme's Chinese developer.
Initially expected to finish in the first half of 2023, the Battersea job ground to a halt earlier this year, with main contractor Multiplex downing tools over a payment dispute with client Guangzhou-based client R&F Properties.
The Hong Kong-listed developer has now announced a financing package for One Nine Elms, worth more than £770m, which it says will provide the expected funding necessary to complete the build.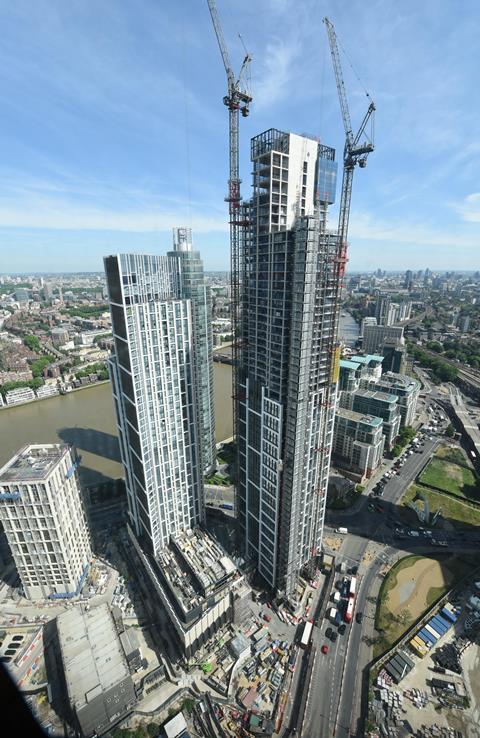 The development, designed by KPF, is comprised of two residential towers, the shells and cores of which have been completed.
The work stoppage earlier this year related to a pay dispute between Multiplex and R&F, with the contractor understood to have been left unpaid for a number of months.
It was believed that the firm's missing payment could run into the tens of millions, as it continued to pay subcontractors such as concrete frame specialist Byrne Bros.
R&F is believed to have had difficulty making a $725m bond repayment the month before the dispute began.
Announcing the new financial package, R&F chairman Li Sze Lim said: "R&F is firmly committed to our investments in the United Kingdom, in particular, One Nine Elms to be the new world-class iconic development for London next year."
Randeesh Sandhu, chief executive of Précis Capital, which originated the loan to R&F on behalf of a consortium of lenders, said the firm was "confident of strong future demand for the units", despite claims last year that R&F had struggled to sell homes.
When complete, the 57-storey City Tower will feature 334 for-sale residential units, while the 42-storey River Tower will host the 203-room Park Hyatt hotel and 103 Park Hyatt-branded luxury apartments.
The project also includes 57 "affordable" housing units, which will be sold to Thames Valley Housing.
R&F bought the job from Dalian Wanda four years ago after that developer, also China-based, had make Multiplex the third contractor appointed to the project.
It was originally due to be built by a pairing of Interserve and China State Construction Engineering Corporation, appointed in 2015, but the team was replaced by Balfour Beatty the following summer only for the contractor to walk away that autumn after failing to agree terms. Multiplex was appointed at the start of 2017.