He will be replaced by John Murphy, the grandson of the company's founder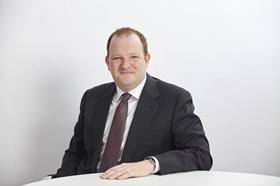 Steve Hollingshead is stepping down as chief executive of Murphy after just two and a half years in the role.
The 61 year old joined the north London contractor back in June 2015 after more than 25 years working for Ray O'Rourke – first at O'Rourke's concrete business and, following the firm's takeover of Laing Construction in 2001, at Laing O'Rourke where his time there included spells as the managing director of the firm's infrastructure business and then heading up its Australia arm.
Hollingshead, who will become a non-executive director, is being replaced at the beginning of next year by the firm's current chief operating officer John Murphy, who is the grandson of the contractor's founder.
Famous for its green vans, 37 year old Murphy (pictured) joined the business in 2003 as a civil engineer and most recently was in charge of the firm's operations across the north of England as managing director.
Peter Anderson, who joined Murphy from Balfour Beatty in January as managing director for its south business, will now become chief operating officer.
The announcement comes two weeks after J Murphy & Sons sold its 50% stake in Australian pipeline construction form Pipe & Civil, which it had bought in 2011. Hollingshead said the money would be ploughed back into the business as part of a 10 year plan to grow revenue to £2bn by 2025.
In its last set of results, Murphy saw revenue for the year to January 2017 slip 2.5% from £629m to £613m. Pre-tax profit was up 69% to £23.3m.