Contractor cuts carbon emissions by 22%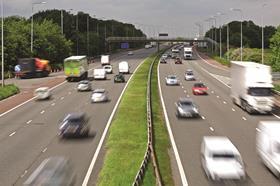 Contractor J Murphy & Sons has put driver tracking devices on its vans to help it cut carbon emissions.
The contractor has slashed its emissions by 22% by using the devices, which monitor the vehicle's speed, idling time, distance covered and location to help quicken journey routes.
Fitted on 1,900 of the firm's commercial vehicles, the trackers also ensure drivers can't drive over 70mph.
Murphy has also invested in hybrid and electric vehicles and launched driver awareness campaigns in a bid to encourage energy-efficient driving.
The schemes are part of a target the contractor set in 2009 to achieve a 10% reduction in carbon emissions across its UK business by the end of 2014.
The tracking devices have also led to a 35% decrease in road traffic accidents among its drivers.
John Coll, director of procurement, plant and transport, said: "We realise the value of getting our drivers to better understand the consequences of their actions – whether that's the amount of fuel and carbon that can be used up by idling in traffic or looking at ways to improve their driving.
"The awareness scheme has certainly helped improve the way people think and act, and has helped Murphy push at cutting our carbon and costs as much as possible."