Spending watchdog says government expects to foot the bill for 94 out of 208 private sector projects
Progress to replace ACM cladding on private residential towers has been slower than the government expected, according to the National Audit Office.
According to the spending watchdog, just 149 of the total 456 buildings which are 18m and above and have unsafe ACM cladding systems had been fully remediated by April 2020, leaving 307 where remediation was not yet finished. Work has not begun on 167 of these.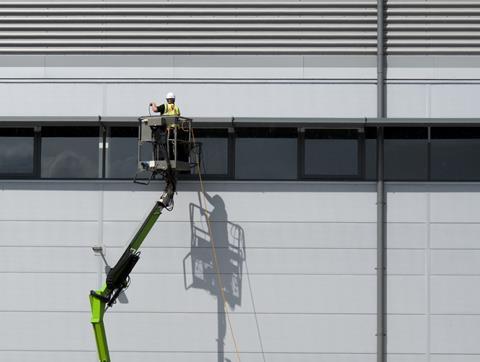 The report, Investigation into remediating dangerous cladding on high‑rise buildings, revealed the housing department (MHCLG) expects that all buildings within scope of its funding will be remediated by mid-2022, with over 95% completed by the end of 2021.
Gareth Davies, the head of the NAO, said today: "The pace of progress has lagged behind [MHCLG's] own expectations, particularly in the private residential sector. It has a long way to go to make all high-rise buildings safe for residents.
"Going forward, it is important that the department successfully manages the administrative challenges of funding building owners to carry out remediation work, particularly given its intention to commit a further £1bn in full by the end of March 2021."
At the time of the investigation, the impact of covid-19 on the remediation programme had not been investigated but is a concern given work remained at a standstill on more than 40% of the buildings where ACM cladding needs to be replaced in June.
The pace of remediation has been fastest in the student accommodation and social housing sectors but slowest in the private residential sector.
By April 2020, 66.7% of student accommodation blocks and 46.8% of social housing buildings had been fully remediated, compared to 13.5% of private sector residential buildings.
The NAO said progress in the private sector had been slower because those legally responsible for private buildings had been difficult to identify and have required more support than expected.
According to the NAO, the department expects to pay for 94 out of 208 projects in the private sector, where the developer or building owner has not agreed to fund remediation themselves.
The owners of 84 private sector residential buildings have committed to fund remediation, with a further 23 self-funded through warranty claims. Seven buildings have not agreed a funding route.
In the social sector, the department has committed to fund 139 out of 154 residential buildings.
The department also estimated there were around 85,000 buildings between 11m and 18m high but does not yet know how many of these have cladding systems, or what proportion of these might be unsafe ACM cladding. It is planning to investigate this over the summer.
Responding to the report, a MHCLG spokesperson said: "We are clear that building owners must keep their residents safe and we are providing them with unprecedented support to do so.
"We have made progress with the removal and replacement of ACM cladding, but it is clear there is much more still to be done and building owners have a legal responsibility to ensure their building is safe."