Two-thirds of construction workers feel industry is not doing enough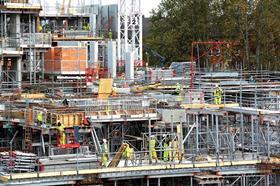 A new campaign to help air quality has launched after a survey by the Considerate Constructors Scheme found there were national concerns about the industry's attitude to pollution.
The 'Spotlight on…air pollution' campaign has been designed to help raise awareness and understanding of how the construction industry can address the issue of air pollution from their activities in and around construction sites.
The survey, which involved over 600 respondents from across the UK and Irish construction industries, revealed while 91% of respondents said air pollution was a nationwide issue nearly two thirds felt industry was not doing enough to tackle the issue.
And only 39% had an average understanding of the regulations surrounding air pollution.
Edward Hardy, the scheme's chief executive, said, "40,000 deaths a year are linked to air pollution in the UK" and construction was a significant contributor to air pollution immediate action was necessary.
He added: "It is essential for the industry to put measures in place to clean up our air by working together to reduce our impact on air quality."
The long-term health problems such as asthma and cancer, as well as the deaths, caused by poor air quality had an annual economic impact of more than £20bn, according to the scheme.
The campaign will provide industry with awareness raising posters to be put up on site as well as regulatory information and best practice case studies. It will also feature guidance from organisations such as the Institute of Air Quality Management.
The Institution of Civil Engineers has partnered with the Considerate Constructors Scheme on the campaign.
Surveys key findings
91% said air pollution is a nationwide issue
88% said the importance of minimising air pollution is being communicated to the workforce on their site
64% said industry was not doing enough to tackle this issue
62% said their site has appropriate measures in place to address air pollution
56% have a good or detailed understanding of air pollution
39% have an average understanding of the regulations surrounding air pollution