Job will include overhauling museum's energy infrastructure
The Natural History Museum is looking to appoint a contractor on a £20m deal to help it achieve net zero carbon emissions by 2035.
In a contract notice published this week, the museum (pictured) said it was looking to shortlist five firms for a 15 year deal to overhaul its energy infrastructure. The work will run from December 2021 to December 2036.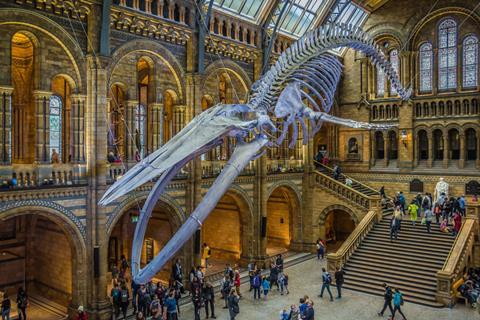 The winning firm will be tasked with operating and maintaining the museum's central energy plant and hot and cold distribution infrastructure, with work set to include revamping the museum's existing plant and equipment.
If successful, the museum would beat the government's target date for achieving UK-wide net zero emissions by 2050 by 15 years.
The museum added that any new infrastructure may require funding by the contractor.
Firms have until 2 November to express interest with invitations to tender due to be sent out on 1 December.
Interested in Net Zero?
On the 18 and 19 November Building and Housing Today will host a live event, Net Zero Live.
Just some of the topics that will be discussed through the two-day programme are delivering net zero from construction techniques through to operational use, designing for embodied carbon from material specification through to repair and maintenance and what clients want from costs to impacts and understanding planners' agendas.
Highlights include three live panel discussions and the exclusive release of the first three parts of Building Boardroom's nine-part report on net zero, which includes insight from six leading clients.
For more information and to register click here.