But HS1 chief executive says Network Rail should look at private finance for infrastructure schemes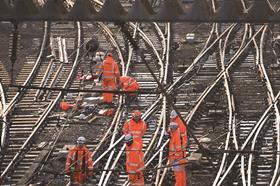 Network Rail should not be privatised but should look to private financing for infrastructure projects, according to a highly anticipated report by HS1 chief executive Nicola Shaw.
The report, which looks at the future structure and financing of Network Rail, has recommended private financing or funding for rail enhancements through partnerships with private consortia, who would design, build and finance projects and then transfer them back to Network Rail.
Shaw also said local developers could fund schemes, and called for other parts of the public sector apart from central government to help fund projects, including local authorities, devolved administrations and European funds.
Deeper devolution to Network Rail's operating routes, which would give the eight regional sections of Network Rail's railway more responsibility, has also been recommended.
Shaw said routes should be required and "empowered" to find local sources of funding and financing, including from those – such as local businesses or housing developers – who stand to benefit from new or additional rail capacity.
She also recommended a new route should be created from the northern sections of the current London North East and London North West routes.
Shaw called on the Department for Transport – which owns and funds Network Rail and is also its client – to clarify its role in railways and Network Rail, and develop a long-term strategy for rail travel.
Industry-wide plans to develop skills and improve diversity are also recommended. Shaw said the industry "as a whole needs to support and grow the pool of skilled and talented people working in the railway better and encourage more diversity."
In the Budget document, the government said it "welcomes the recommendations of the Shaw report, and will respond in full later this year."